PRIOR-DESIGN Black Edition V3 Widebody Aerodynamic-Kit for MERCEDES S-Class [W221]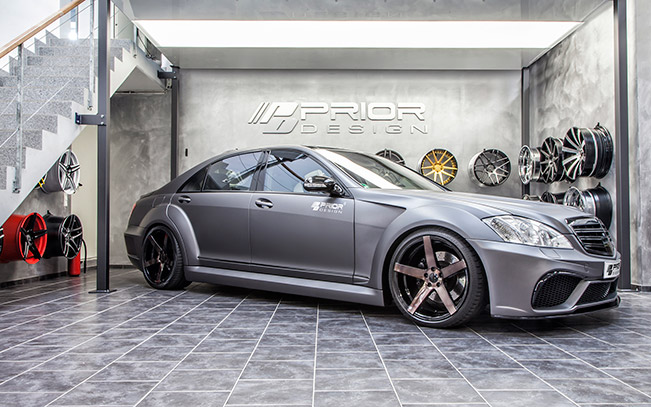 The previous generation of the Mercedes-Benz S-class (W221) has gained a new wide bodykit (again). Prior Design has taken it up a notch and the older (yet, not really that old since it was only redesigned this January) model of Merdeces S-class (W221) dynamic and aggressive look has now been made slightly more menacing. In a good way of course.
Keeping up with their tradition and like most of Prior Design's kits, this product is made from reinforced Fiberglass-Duraflex plastic which is characterized as a material that guarantees high-quality stability and flexibility. It seems like this time the tuner has tried to install as many extras as possible that will cost less money. How practical of them!
On top of this, the classy Prior Design Exclusive Custom interior, suspension kit and exhaust system are available upon request! Trying to satisfy the preferences of their customers, the tuner is offering a diverse types of black allow wheels that are matched with a lowered ride height. The wheels can be found in 20 inches,9×20 ET40 / 10.5×20 ET 40, Bolt pattern: 5X100 / 5X120 and in different colors as well. They come with TÜV Certificate.
The complete PD BLACK EDITION V3 Widebody Aerodynamic-Kit package is comprised of:
PD Black Edition V3 Front Bumper PD Black Edition V3 Front Lip Spoiler (for PD Black Edition V2 Front Bumper) PD Black Edition V3 Rear Bumper incl. Diffusor PD Black Edition V3 Side Skirts PD Black Edition V3 Front Fenders PD Black Edition V3 Rear Widenings PD Black Edition V3 Mesh Grill Inserts PD Black Edition V3 Rear Trunk Spoiler Mounting Material