Prior Design BMW M6 F13 Pickup [render]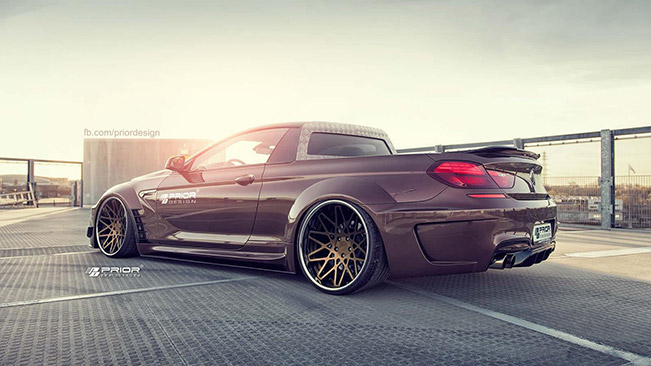 Prior Design has published a nice render picture of BMW M6 F13 Pickup. For now it is just an idea, but Prior actually said that it could become a reality. We hope that don't happen, because it will ruin one perfect car… or more.
However, there is a lot of positive feedback from fans on the Facebook page of Prior Design. We wonder why, but everybody has an opinion even if it is wrong. You may remember that BMW actually produced one M3 Pickup based on the E92 model. It looked ridiculous, but nobody cares because it is an M3.
The tuning package for M6 F13 Pickup by Prior Design remains the same as the one fitted on the Coupe – a new front bumper, a carbon fiber front lip spoiler and carbon fiber fins. There is also a new ventilated hood, a pair of widened side skirts and extended wheel arches. The rear bumper is also new and comes with an integrated diffuser.
BMW M6 F13 Coupe is powered by a 4.4 liter twin-turbo V8 (S63B44TU) – 560HP (412 kW) at 6,600RPM and 680Nm (502 lb-ft) of torque available at just 1,500RPM. 0-100 km/h in 4.2 seconds , 0-200 km/h in 12.0 seconds and a top speed of 250 km/h (155 mph) – electronically limited or 300 km/h (186 mph) with ///M Drivers package. The engine is connected to a 7-speed dual-clutch automatic gearbox sending the power to the rear wheels. ¼ mile in 11.7 to 11.9 seconds.
The curb weight is 1,850kg and the powerful sports coupe is able to cover 100 km with just 7.6 liters on Highway.
Source: Prior Design