Prior-Design has just sent us their latest project and we are extremely impatient to show it to you. The car is no other but specialist's favorite 458 Italia, which this time comes in Ferrari's most famous color.  The changes here are basic and they do not include engine update as we have seen in other PD projects including this model, however the car looks fantastic and to be assured of this you need to check out the gallery below.
PD458 Aerodynamic-Kit
First and foremost, the main change is the addition of the famous PD458 aerodynamic-kit. The pack itself is unique and lends the sports car even purposeful appearance. At the front the experts added wide body bumper and add-on lip spoiler, which substantially widens car's front, hence – stance. There is also unique PD458 bonnet.
SEE ALSO: Prior-Design Ferrari 458 Italia "WOWs" at Top Marques Monaco
Going to the sides, they are adorned by side skirts and add-on side spoiler, while the rear is governed by the following elements from the aero pack: rear bumper, in-house made diffuser, trunk spoiler, vents inserts, cup wings and widebody rear widenings. Not to mention the vented engine covers.
Wheels & Suspension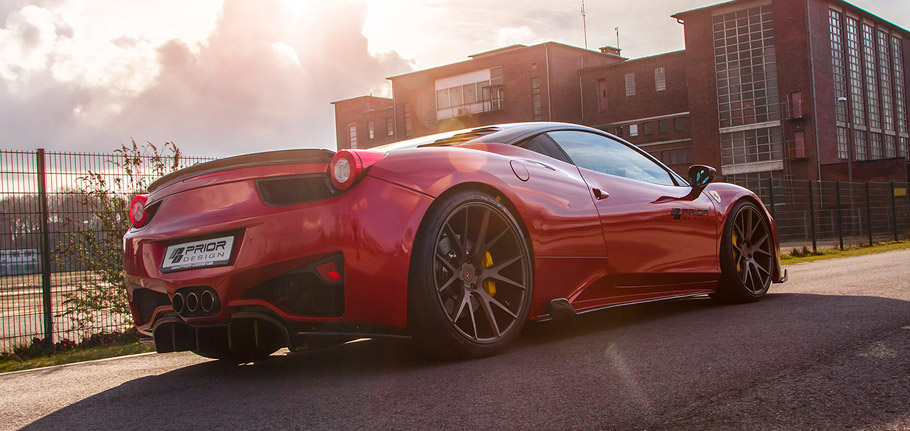 The last change includes suspension and alloy wheels. This Rosso red Ferrari 458 Italia has been updated with H&R Suspension system and it rides on huge 21-inch VOSSEN VPS-306 forged wheels. The alloys have been matched with CONTINENTAL tires of the appropriate dimensions.
Although the power output hasn't been changed, the 458 Italia can proudly show-off with a mid-mounted 4.5 litre flat-plane crank V8 engine, which produces 570 hp (420 kW).
Tell us what you think!
Source: Prior-Design