Refreshed: 2014 Mercedes-Benz E-Class Coupe and Cabriolet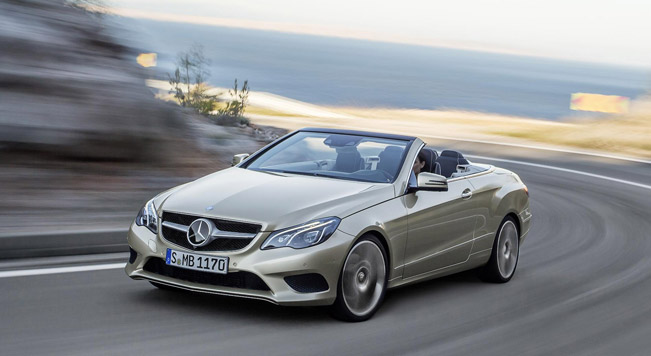 Mercedes-Benz has just exclusively revealed its refreshed versions of the new 2014 Mercedes-Benz E-Class Coupe and Cabriolet. The completely revised models feature powerful and efficient BlueDIRECT four-cylinder engines with pioneering injection technology and trend-setting assistance systems.
They come under the name "Intelligent drive" and offer the driver the help to prevent accidents with crossing vehicles or pedestrians, Active Lane Keeping Assist or anti-glare, permanent high-beam headlamps, for example.
The main new design element of the facelifted versions is the revised front with new headlamps comprising a single headlamp lens over all functional elements. The headlamps are fitted with anti-dazzle LED lights.
Furthermore, the new front bumpers with a more pronounced V-shape and large air intakes are also a highlight here. The front has autonomous, sporty face, while at the same time emphasising the close affinity between the Coupé and Cabriolet.
In addition, the tail lamps and a wide-effect rear bumper with "wing design" and chrome-look are also new. They serve to underline the powerful and sporty appearance of these models. All in all, the exterior of this E-Claass retains the classic proportions.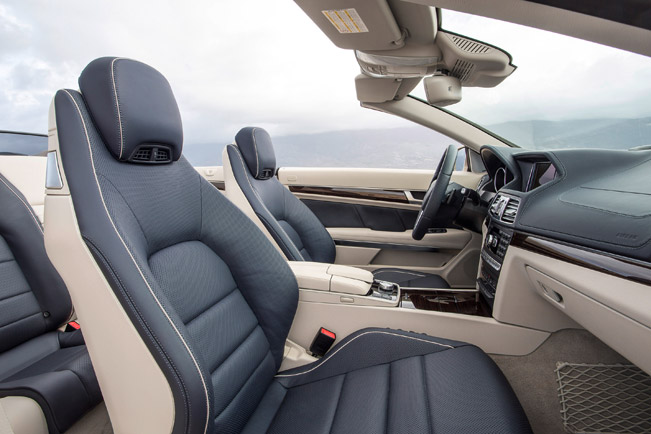 The interiors of course have been also enhanced and improved so that they now deliver a greater comfort and luxurious feeling. The designers have used here stylish materials which dominate alongside clean-cut surfaces and the two-part trim which stretches across the entire dashboard. I
Additionally, it is also seeable that the center console is redesigned. Now it includes a selector lever, as well as a three-spoke multifunction steering wheel with Directt Select lever and shift paddles in conjunction with automatic transmission.
It is also important to mention a new feature in the cabriolet model, where an acoustic soft top is included. It has a high-grade insulation and ensures that even at high speeds, only very little wind noise is heard in the interior.
Next, lets review the security and safety features. Here are include the Stereo Multi-Purpose Camera in the vicinity of the rear-view mirror, which provides a three-dimensional view up to around 50 metres in front of the vehicle; Collision Prevention Assist – a radar-based collision warning system with adaptive brake assist systems; Attention Assist – informs the driver about their level of fatigue and the amount of driving time.
Not to mention the Distronic Plus that helps taking the burden off the driver when it comes to keeping the vehicle in its lane; the Brake Assist system Bas Plus with Junction Assist - detects crossing traffic and pedestrians and boost the braking power; PRE-SAFE® Brake which detects pedestrians and initiate autonomous braking to avoid a collision at speeds up to 31 mph; PRE-SAFE® PLUS, which recognises an imminent rear-end collision.
In addition, there is also the Active Lane Keeping Assist – it detects when the adjacent lane is occupied; Active Blind Spot Assist; Adaptive Highbeam Assist PLUS; Active Parking Assist; Traffic Sign Assist.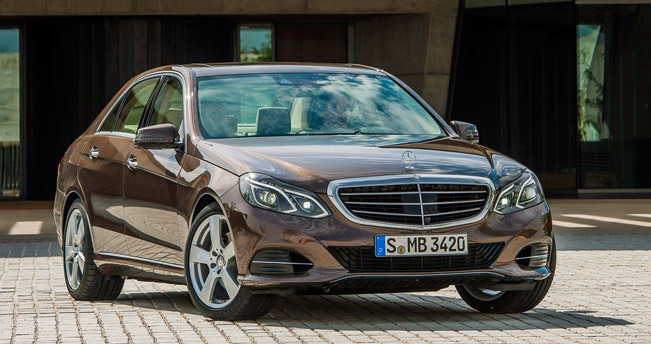 More importantly, the new E-Clas Coupe and Cabrio can be equipped with wide choice of powerful petrol and diesel engines. All are highly efficient and equipped with the ECO start/stop system. In the beginning there will be petrol engines available: the E 200 BlueEFFICIENCY and E 250 BlueEFFICIENCY, and three diesel engines: the E 220 CDI BlueEFFICIENCY, E 250 CDI BlueEFFICIENCY and E 350 BlueTEC.
Here what is new is the BlueDIRECT four-cylinder petrol engine with spray-guided direct injection. It includes fast-acting piezo injectors for multiple injection, quick multi-spark ignition, turbocharging, fully variable camshaft adjustment on the inlet and exhaust side, as well as a controlled oil pump.
The engines will mated with either a six-speed manual transmission with high ease of shifting and short shift travel, and the 7G-TRONIC PLUS automatic transmission with DIRECT SELECT lever and DIRECT SELECT shift paddles.
At last, in terms of suspension, these Mercedes-Benz models are fitted with the Agility Control with selective damping system. The shock absorbers adapt to road surface conditions, and in this way it ensures a high level of ride comfort. Sporty handling is enabled while still delivering the comfort on long journeys that is typical of the brand.
In addition, the E-Class models will be equipped with the electromechanical Direct-Steer system as standard. The latter combines speed dependent power assistance from speed-sensitive steering systems with a steering ratio that varies with the steering angle. This ensures more direct response, comfortable handling and high levels of steering comfort.
Source: Mercedes-Benz