Renault Announces its Lowest CO2 Emitting Production Car
Behind the scenes, the development of several of Renault's electric vehicles continues relentlessly ahead of their launch in 2011. Meanwhile, in the pursuit of some purer air before then, the forward-thinking French brand has announced its cleanest production car yet with the new dCi 86-powered Clio, emitting just 98 grams of CO2 per kilometre.
Set to be available in three- and five-door guise, the new versions offer not just reduced guilt driving, but also the promise of lower fuel consumption, at 76.3 mpg (combined cycle, an increase of 12.1 mpg) and a theoretical range of 923 miles between fill-ups.
Such headline-stealing figures have been achieved principally through a series of improvements to the Clio's aerodynamics, engine and tyres. Overall, the new versions offer an impressive 17g/km reduction in CO2 emissions (a gain of 15 per cent) compared to the current mode, without any impact on the car's performance.
The new versions of Clio will sell at the same price as the 115g/km version, a further sign of the Renault eco² signature's aim to make ecological and economical vehicles available to as many motorists as possible.
Clio dCi 86 Renault eco² will be unveiled on 13 January at the Brussels Motor Show, Belgium. Order books will open in France on 9 February and later this year in the UK.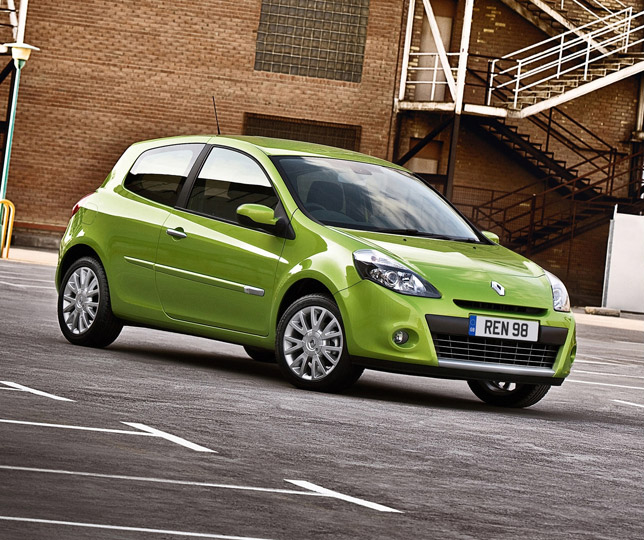 ONGOING CO2 EMISSIONS CUTS ACROSS THE RENAULT RANGE Recognising the importance of addressing the issue of climate change, Renault is committed to attaining a leadership position in CO2 emissions by 2015, not only by cutting the CO2 emissions of its diesel and petrol ranges, but also through the development of its electric vehicle range.
As an essential element in the implementation of its eco² environmental policy, Renault believes it is vital to offer the most effective technologies to the maximum number of customers at an affordable price. In this regard, Renault is already one of the top carmakers in Europe thanks to many years of effort and investment.
INCORPORATION OF LATEST ENGINE DEVELOPMENTS Renault's engineers focused particularly on fine-tuning the dCi 86 powerplant in order to achieve the greatest possible improvement in CO2 emissions levels, without unduly affecting performance.
Longer gearing across all the transmission ratios: the torque and the flexibility of the dCi 86 allow this to be achieved without any significant impact on performance
Reduction of frictional losses in the engine and gearbox with the introduction of low-viscosity lubricants
Dedicated engine mapping focused on reducing fuel consumption and CO2 emissions
REDUCTION OF ROLLING RESISTANCE AND DRAG Improvements to aerodynamics:
Flexible lip under front bumper extended by 15mm
Front wheel arch liner extension flaps
Specific underbody enclosure for rear axle
These aerodynamic improvements have had no adverse effect on Clio's looks, and have notably been achieved without calling on unsightly solutions such as rear lip spoilers or full disc wheel trims.
Reduced rolling resistance:
Michelin 185x60 R15 low energy consumption tyres
Taken together, these changes bring about a 5 per cent improvement in CdA, taking it from 0.725 to 0.69 and directly benefiting the vehicle's CO2 emissions. The reduction of 17g/km has been achieved without any impact on driving pleasure, comfort or noise levels.
The Clio's range of petrol engine options has also recently boosted by the introduction of a Euro5-compliant TCe 100 with CO2 emissions reduced to 129g/km, representing a gain of 8g/km. This will also save owners £150 in road tax from April.
CLIO dCi 86 RENAULT eco² 98g – TECHNICAL DATA
ENGINE
Type
K9K
Transmission type
Five-speed manual
Emissions standard
Euro4
Cubic capacity (cc)
1,461
Bore x stroke (mm)
76 x 80.5
Number of cylinders / valves
4 (in-line) / 8
Compression ratio
17.9:1
Maximum power (hp) at (rpm)
86 at 3,750
Maximum torque (Nm) at (rpm)
200 at 1,900
Fuel injection
Direct common rail
Fuel
Diesel
Catalytic converter
Standard
GEARBOX
Type
JRQ
Number of forward speeds
5
Speed at 1,000rpm:
in 1st gear
5.55 mph
in 2nd gear
10.10 mph
in 3rd gear
15.66 mph
in 4th gear
21.30 mph
in 5th gear
27.37 mph
Ratios
1st gear
11/41
2nd gear
21/43
3rd gear
28/37
4th gear
35/34
5th gear
41/31
Final drive
17/56
STEERING
Power steering
Electric variable
Turning circle between kerbs / walls (m)
10.7 / 11
SUSPENSION
Front
MacPherson-type
Rear
Programmed-deflection torsion beam
Front anti-roll bar diameter (mm)
20.5
Rear anti-roll bar diameter (mm)
Integrated
WHEELS & TYRES
Standard rims (inches)
6" J15
Standard tyres
Michelin 185x60 R15
BRAKING
Type of circuit
X
ABS and emergency brake assist
Standard equipment
Electronic brakeforce distribution
Standard equipment
ESP with CSV understeer control
Optional
Servo (S=single, D=double) – diameter (inches)
S – 10''
Front: vented discs – diameter (mm) / thickness (mm)
260 / 22
Rear: drums – diameter (mm)
Drums 203
PERFORMANCE
Drag coefficient (CdA)
0.69
Top speed (mph)
109
0-62 mph (s)
12.7
1,000m standing start (s)
34.4
FUEL CONSUMPTION (litres/100km) – EC Directive 99/100
CO2 emissions (g/km)
98
Combined cycle (mpg)
76.3
FUEL TANK
Capacity (litres)
55
WEIGHT (kg)
Unladen (kg)
1,090