Renault FRENDZY Concept
Renault FRENDZY Concept car boasts unique style with its original and innovative stance and strange design.
The exterior features no glazing or centre pillar, just one conventional door and one sliding side door which incorporates a 37" widescreen display. The driver's side, complete with side windows, still no centre pillar, but with centre opening doors, represents the world of the family.
"FRENDZY is the fourth vehicle to illustrate Renault's new design strategy, a series which started with DeZir. It takes an original and innovative stance on the world of light commercial vehicles - a key part of Renault's activities", commented Laurens van den Acker, Senior Vice President, Design Renault.
"FRENDZY is the must-have vehicle for flexibility and versatility. It is efficient and modern as a work tool, yet sporting and warmly welcoming for the family", added Axel Breun, Design Director, Concept and Show Cars.
The interior features interesting cockpit designed around the theme of a futuristic "work bench" featuring a structure which appears to be made from molten metal. Green light emanating from the dashboard brings this smooth and organic architecture to life.
"Our research into materials centred on the area where the technology of industry meets the cosy softness of the family nest. This modern combination of wood and metal picks up on Renault's strategic design values of simplicity, sensuousness and warmth.", said Antoine Génin, Design Director, Interior and Colour/Materials.
The extras are a lot, but the most interesting is the BlackBerry®PlayBook™ tablet recently launched by Research In Motion (RIM), plugged into the dashboard, which is ultra-portable -7" touchscreen, 425g in weight, measuring 130mm x 194mm x 10mm. It supports Adobe® Flash®, HD multimedia, advanced security features and out-of-the-box enterprise support.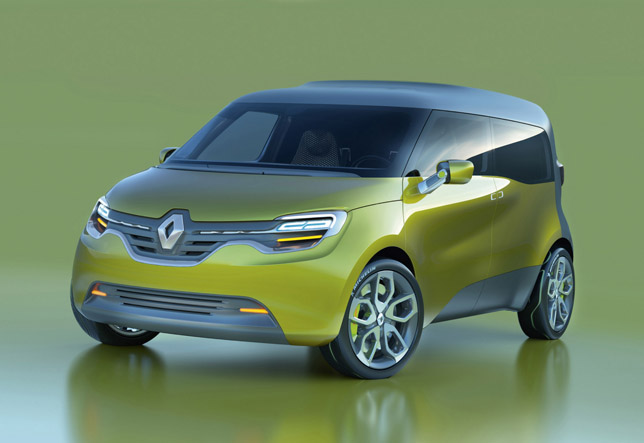 Dimensions (mm)
| | |
| --- | --- |
| Length | 4,091 |
| Width | 1,872 (excluding mirrors) 2,172 (including mirrors) |
| Height | 1,743 |
| Ground clearance (laden) | 200 |
| Wheelbase | 2,691 |
| Front track | 1,640 |
| Rear track | 1,640 |
| Load capacity (litres) | 2,250 |
Technical data
| | |
| --- | --- |
| Motor | Electric |
| Power (kW /hp) | 44 / 60 |
| CO2 emissions (g/km) | 0 (in road use) |
| Batteries | Lithium – ion |
| Peak torque (Nm) | 226 |
| Top speed (kph) | 130 |
| Transmission | Direct drive, with reverse |
| Tyres | Concept 205/45 R19 |
| Kerb weight (kg) | 1,420 |
Partners
| | |
| --- | --- |
| Body construction | ProtoStyle |
| Tyres | Michelin |
| Mobile interface | Research In Motion (RIM) |
| Optics | Gaggione |
| Sound | IRCAM |
Source: Renault