Renault KWID Concept And The Flying Companion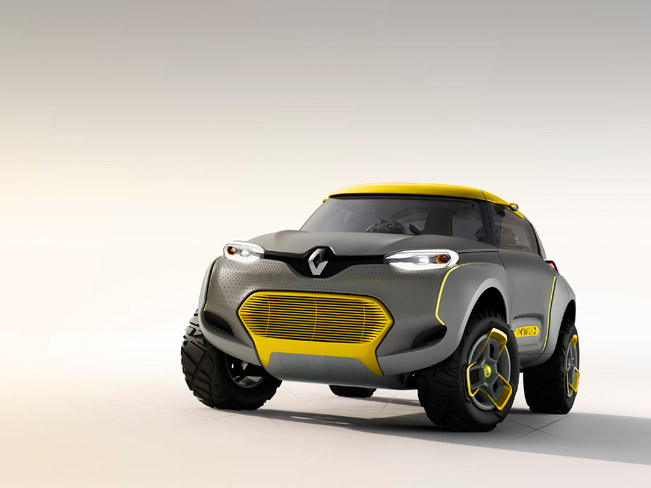 Wouldn't you know it, the playful-looking KWID actually does have a complementary drone with it. Not that Renault are planning to actually really make it in the near future, but we are quite stumped. Unveiled at the Delhi Auto Show, this is the French company's first ever concept outside of the European continent. It had to be good, then. And it is. By good, of course, we mean outlandish.
It was sort of designed locally: input from Renault Design India played a big part in the process. It's pretty short and has almost no overhangs and thus Renault describe it as a "bouncing vehicle". Add the freakishly big tires into the equation and you've got yourself a buggy-like car. It's still two-wheel driven though.
The one that can be seen at the Auto expo has a 1.2-liter turbocharged petrol engine and a dual-clutch EDC transmission with a touch pad for shifting gears (yuck). The original idea, however, is to slot in the company's Z.E. (electric) drivetrain. There's place for the batteries and a plug behind the Renault logo.
Inside, the KWID is appropriately fitted with an electrically operated front bench seat, electric opening doors, LED lighting, and -instead of a dashboard – a vertically-mounted TFT touchscreen display offering the latest in connectivity.
And speaking of connectivity, we can't neglect the fact that the KWID has a drone mounted on its top. It's called the Flying Companion and it has two modes of operation. One is the automatic mode that uses a pre-progarammed flying sequence and GPS location to keep itself out of trouble. The second mode involves a tablet and you as a pilot. Renault say that the companion can be used for scouting traffic, taking aerial pictures and detecting obstacles, but wouldn't that be a bit distracting from, you know, the main act of driving?
"Customers in new markets are much younger. Their expectations are different and customers are basically gamers. They tend to take a closer interest in technology and want to enjoy themselves. This concept car meets those needs in a variety of ways, but mainly thanks to the Flying Companion which makes driving both safe and fun. This is the very first time in the long automotive history we can drive on earth with an eye in the sky. It's an amazing feature!" says Serge Mouangue, Brand Manager and Innovative Cooperative Laboratory Manager.
Apparently not.