Renault Megane R.S. 275 Trophy-R - Pricing Announced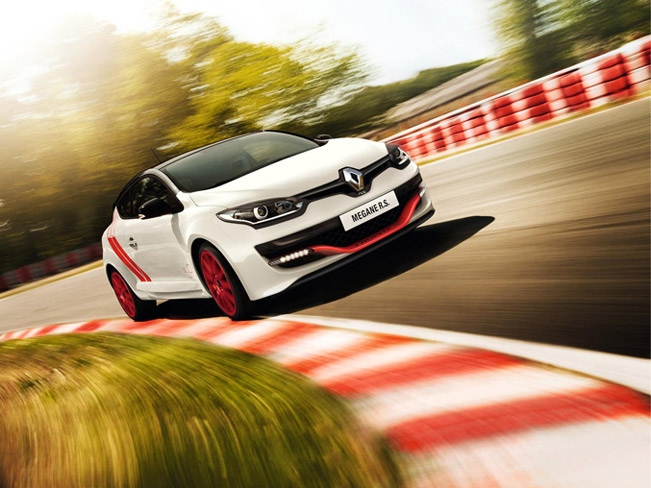 2014 Renault Megane R.S. 275 Trophy-R is the newest limited edition Sport hatch, which was introduced almost two months ago. Of course, the car comes equipped with variety of improvements as well as new more powerful engine: 2.0 liter four-cylinder turbocharged one. As the name of the car states, the unit delivers 275 hp (202 kW) at 5,500 rpm and 360Nm (265 lb-ft) of torque at 3,000 rpm. Furthermore, the new Renault Sport model benefits from new Akrapovic titanium exhaust system, which is lighter than the one used in its predecessor.
This car has achieved two weeks ago 7m 54.36s record for a rear-wheel drive car round the Nürburgring's Nordschleife. The record was achieved thanks to the dedication of the teams at Renault Sport Technologies and the hundreds of hours of testing. The new lap record highlights once again the knowledge and expertise of the specialists at the brand.
Megane R.S. 275 Trophy-R comes as a standard with the Cup chassis with limited-slip differential, Öhlins Road&Track dampers and Michelin Pilot Sport Cup 2 tyres. The car has no rear seats, and in the front one can see Recaro Pole Position polycarbonate monocoque seats with three-point seat belts.
The exterior of the model has new two-tone colour scheme: Etoile Black roof mated with a Pearlescent White finish. Highlights here are also the Trophy-R branded F1-type front blade, chequered flag graphic at the bottom of the front doors and graphics on the sides in Vif Red.
Renault Megane R.S. 275 Trophy-R has already gone one sale in France with an initial price tag of €45,000.
Source: Renault