Renault Megane RS Trophy with Akrapovic Exhaust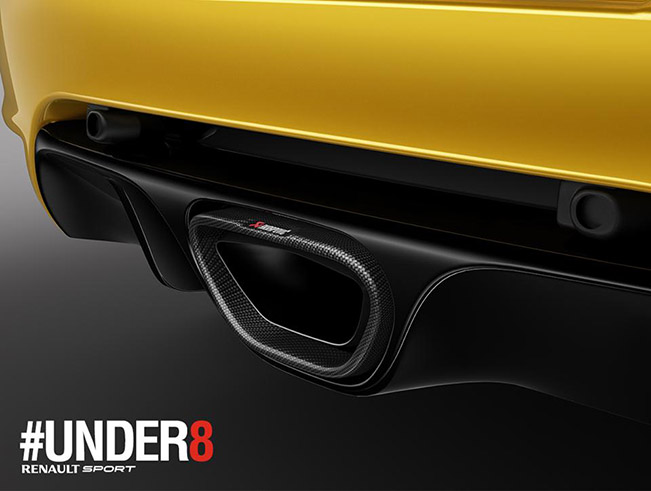 Renault has published a teaser image of a more hardcore Megane RS Trophy, which is expected to make official debut on June 16th. The hot hatchback was the fastest front-wheel drive car at the Nurburgring for a long time, but the current leader is the extremely powerful Seat Leon Cupra 280.
The Spanish legend managed to complete a lap around the Green Hell in  7 minutes and 58.4 seconds. So, the game is officially on and Renault will release a special edition of the Megane RS Trophy, which will be able to lap the Ring in less than 8 minutes.
Renaultsport 265 Trophy is powered by a turbocharged 2.0 litre petrol engine with staggering 265HP (195 kW) and 360Nm (265 lb-ft) of torque available between at 3,000RPM. The hot hatch achieves impressive power-to-weight ratio of 191HP / tonne. It will be fitted with a custom Akrapovic exhaust system featuring a carbon fiber cover. Of course, we expect improved engine management, so the uprated Megane RS will have more than 280HP.
Besides of the insane engine, Renaultsport 265 Trophy comes with a huge 19" gloss black Speedline alloys with red rim fitted with high-performance Bridgestone Potenza RE050A tyres. The car boasts "Trophy" red decals on the F1-style front blade and doors, and LED daytime running lights.
Source: Renault