RENM Lamborghini Aventador LE-C
Lamborghini Aventador is really an exceptional car. It comes with brutal 6.5 liter V12 delivering 700PS (515 kW) and 690Nm (509 lb-ft). It is mated to a 7-speed ISR gearbox specially supplied by Graziano Trasmissioni Group, which shifts in just 50 milliseconds, which guarantees perfect performance.
The kerb weight is just 1575 kg (3 472 lbs), thanks to a carbon fiber-reinforced polymer (CFRP) monocoque structure with total weight of only 147.5 kg.
To make it even better, RENM performance has created a full optic package for the staggering Aventador.
"We wanted to retain the original design lines while enhancing and making improvements across the entire platform. Some aspects of the design were influenced by the Aventador J concept, but only those sections we considered were improvements. For instance, the upper rear grille is similar to the J concept, although the lower rear section is a total redesign.", commented from the tuning studio.
The design specifications were also developed in consultation with Aventador owners scheduled for the LE-C upgrade.
Replacement body parts are made from light-weight carbon fiber composites that provide significant weight savings. The interior also blends alcantara and carbon fiber elements. Both standard and light-weight race seats are upholstered in alcantara with LE-C inscription.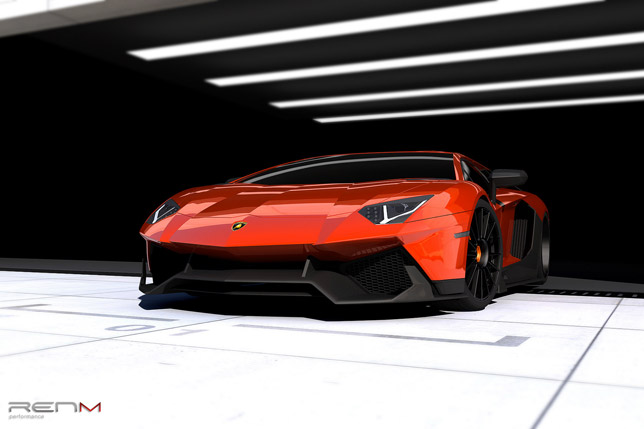 LE-C program
include:
• Extensively redesigned aerodynamic carbon fiber body sections with electronically operated rear wing;
• Road and race specification valve-controlled inconel and titanium exhaust systems, re-designed air intake chambers, ECU recalibration resulting in a 9-11% increase in engine output;
• Individual suspension, chassis adjustments and modifications, with adjustable vehicle ride height;
• Exclusive LE-C light weight center-lock race specification wheels, fitted with optional race specification tyres;
• LE-C race brake kits with air flow inlets, revised engine and brake cooling chambers;
• LE-C interior with alcantara and carbon fiber accents, including steering wheel with optional light weight race seats and harness section.