RFK Volkswagen Golf Mk 5 in Pure Gold?

RFK Volkswagen Golf Mk 5 is dressed in bright color that mimics pure gold. The project has been conducted by the tuning specialists at RFK Tuning, who are based in Germany. The car did not receive only a shiny exterior but there are also some other modifications that need to be addressed, like the new suspension, contrasting wheels and engine tuning. Let's see why this Volkswagen looks so charming and which were the exact steps of achieving this effect.
Step 1: Striking Color
The exterior color of the Golf grabs the attention immediately. It isn't made of real gold of course, but it is actually achieved via Matt Chrome Yellow foil wrapping. And this is the secret of the one-off car.
The other captivating element of the exterior here are the wheels. They come in 19-inch size and are painted in bright candy red, perfectly contrasting the exterior shell. In house made, the Elegance Wheels, include gold decorative screws. This gives the impression that these one-piece wheels are actually multi-piece.
SEE ALSO: 2015 Volkswagen Golf Concept Shows What Confidence Means
The extensive care for the "shoes" of this Volkswagen Golf continues with the addition of 225/35ZR19 Pirelli P Zero Nero tires at all four corners. They were manufactured with offsets of ET45 and ET35 on the front and rear axles, respectively, and also clear the R32 brakes without spacers.
Step 2: Suspension & Handling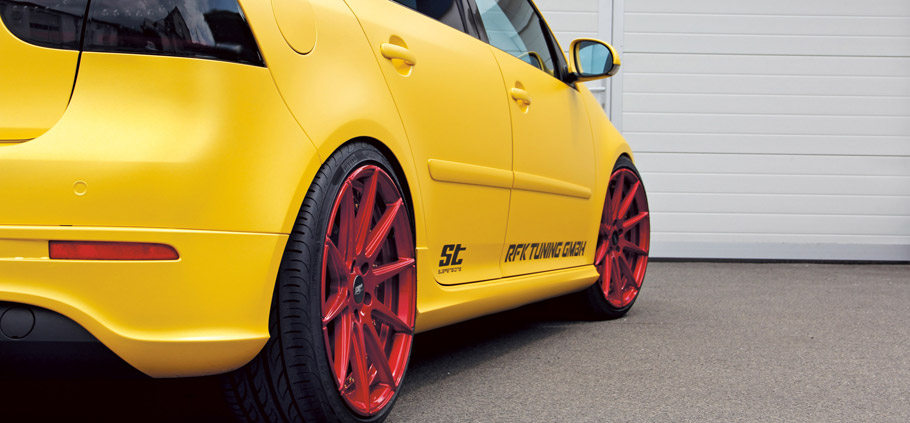 The next step in this tuning was to select the most appropriate coil-over suspension kit for the R32. ST Suspensions, KW's subsidiary, stepped in by delivering a set of ST X adjustable coilovers. They lower the ride height with a few centimeters, thus giving the Golf significant visual and handling benefits.
Step 3: Engine Remapping
Although the colour is the most striking feature of this six-cylinder Volkswagen Golf, it also has a striking new numbers of its engine. The stock 3.2 litre V6 unit produces 250 hp (184 kW) and 320 Nm (236 lb-ft) of torque. BHP Motorsport ensured that there is a proper software remapping for the Golf and managed to increase its output to 270 hp (198 kW) and 340 Nm (251 lb-ft). The engine also has a sharper throttle response.
To sum up, although this project is a little bit pompous, it has its advantages, especially when it comes to engine uprating and tuner's craftsmanship. As a matter of fact, we do like it very much, but wonder what you have to say about it?
Source: RFK Tuning