Ringbrothers Ford Mustang Blizzard - 710HP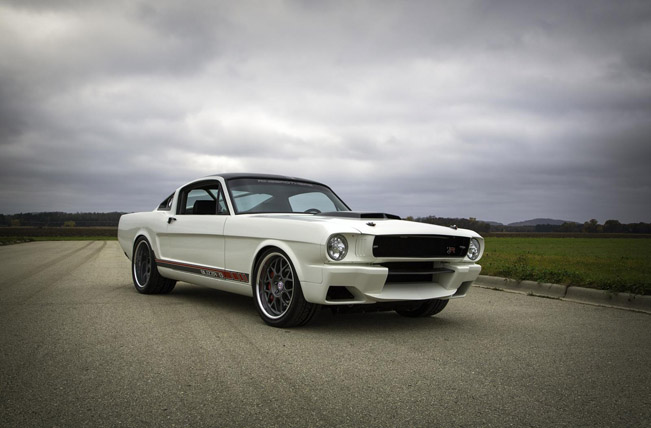 Ringbrothers have unveiled their Ford Mustang Blizzard for 2013 SEMA. It boasts brilliant white paint job and super powerful V8.
Blizzard gets its power from a highly modified 351-based 427cid V8 engine NASCAR Sprint Cup Series style engine build by Wegner Motorsports. Induction is handled by a Holley carburetor and exhaust is funneled through Flowmaster Mufflers. Ringbrothers has also installed a Be Cool radiator and fan setup that keep the engine running at its optimal temperature while Royal Purple lubricants work to keep everything running smoothly. The result is 710HP (529 kW) sent to the rear wheels through a Bowler 5-speed manual transmission and a John's Industry limited-slip differential.
Putting all of the power to the ground are a set of HRE 560R forged wheels shod in Nitto Invo tires that measure 265 up front and 325 out back. Inside of the wheels, Baer six-piston calipers bring this pony to a stop from full gallop without even breaking a sweat. The car is actually setup to handle as well as the Stock Cars that inspired its engine thanks to a Detroit Speed & Engineering front coilover and rear Quadralink suspension with AFCO shocks and DSE sway bars.
Source: Ford