S-C-P Mercedes-Benz E-Class in Ellectric Yellow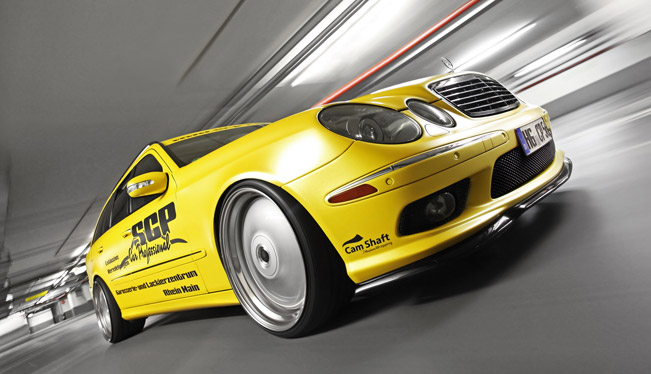 S-C-P Mercedes-Benz E-Class comes in the stunning color named Ellectric Yellow. The company which hides behind the tuning is the S-C-P, which is the short abbreviation for Schulz Car Professional. The tuners foiled the Mercedes-Benz in Electric Yellow Metallic matt delivered by Cam Shaft Premium Car Wrapping and the result is its attention grabbing appearance.
This distinctive vehicle is a rebuild over the AMG styling. The professionals from S-C-P shift the edges of the four wheel arches about 1,5 cm outwards, before the E-Class gets complete painting in the original MB color Diamont green pearl.
The next transformation which followed is over the entire exhaust system. Now it comes up with ingredients from PP-Exklusiv without a center silencer in the 4 pipe design. The cat-back here is of course in stainless steel.
The air filter box was modified as well. Furthermore, the front lights and the illumination of the rear registration plate are to be retooled to LED technology. Regarding the chassis there are added the Bilstein B8 sports absorbers and pressed KAW springs.
All this results in 7,5 cm deeper front axle. At the rear axle custom made B6 shock absorbers were installed. At last to be noted is the unique wheel tire combination: Crownjewel rims by PP-Exklusiv in 10,5 x 20 with 4 inch drop center and 235/30-20 Ventus tires by Hankook at the front axle or rather in 11,5 x 20 with 5 inch drop center and 265/25-20 at the rear axle.
Source: Miranda Media