Shmidt Revolution and The Powerhouse
With the 5th generation of Golf GTIs, Volkswagen decided to bring back the essence of the original and iconic Golf GTI Mk 1. Anyone who has seen the the Golf GTI from the 70's can immediately  point out which genes have made it on to the Mk. 5. The red lining of the front honeycomb grille, the black side skirts, the plaid seats and a typical tachometer all give away the otherwise discrete hot hatch.
Shmidt Revolution, a German tuning company, finding it pointless to try and improve on perfection (so to speak) have preserved all these elements in their project called The Powerhouse. What they have done to change the appearance of the VW however is to put an again standard R32 rear bumper and add a lip spoiler and some skirts here and there.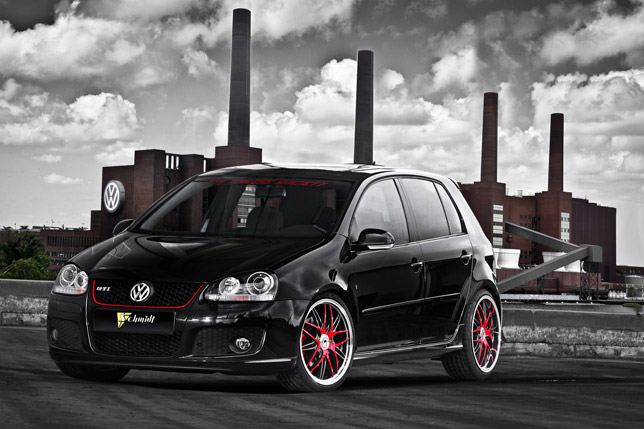 The original 2.0 TFSI, 200 horsepower engine has undergone an ECU upgrade and the air intake has been tweaked by HG Motorsport from Lubeck. The end result is a 275 horsepower lump of power that can take you anywhere you want. And you will be able to go literally anywhere as there is also an all-in-one Kenwood DNX520VBT  navigation system provided.
To wrap it up, Shmidt have fitted four massive 19 inch Gotham wheels wearing 225/35R19  Marangoni M-power all-rounders.
Source: Shmidt