2012 SEAT Toledo Concept
At the 2012 Geneva Motor Show, SEAT brand will proudly present their new concept vehicle, named Toledo, which combines the proportions of a classic saloon car with a sporty, almost coupe-like design. This is a next-generation of the SEAT Toledo, which in addition is an extraordinary combination of emotion, excellent design quality and rational usability. It carries powerful and solid stance, clear surfaces and lines, and new headlamp form which is a signature feature of SEAT's new design DNA. Furthermore the new 2012 SEAT Toledo Concept also offers spaciousness and usability within compact dimensions. Within its length of 4.48 metres, and wheelbase of 2.60 meters, the new Toledo delivers spaciousness for five people, a luggage compartment of more than 500 litres and large rear hatch and folding rear bench. These dimensions make the vehicle perfect for city driving as well as for long journeys and family transportation needs. Moreover, the luggage compartment is equally spaciously proportioned, with impressive volume. In addition, the new concept vehicle possesses a large rear hatch for optimum loading. Eventually, the folding rear seats facilitate an exceptionally long load length and give the Toledo a usability that is almost on par with that of an estate car.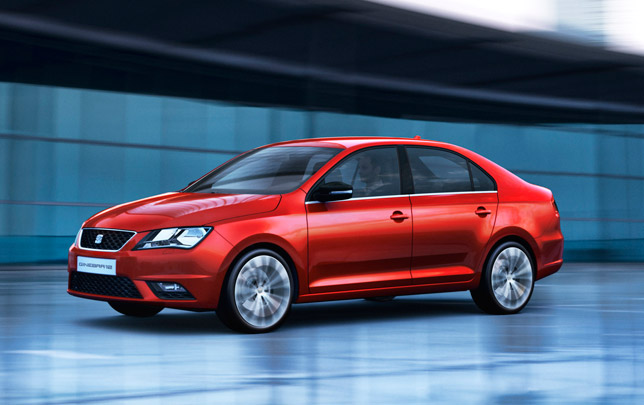 With the new 2012 SEAT Toledo Concept, SEAT Design is adding an extra portion of sophistication into the design language. At first sight, one can see that the vehicle got a fine figure with its stretched proportions, clean surfaces and sculpted edges. The grille is with honeycomb mesh and retains its trapezoidal form. However its look now is wider and lower. The same pattern is applied on the large air inlet beneath the bumper. One of the characteristic elements of the new SEAT design language is the pentagonal form of the broad front headlamps. The light units come with the chromed "wing" between main headlamp and daytime running light. The broad rear lights also received the same styling, thus contributing to the entire rears impression of quality and solidity. Observed from the side, the new Toledo Concept has taut and dynamic look. This impression is achieved, thank to the clean edge runs from the headlamps across the shoulders to the rear lights. In addition to that the area around the sills has a simple, sculptural feel. Nonetheless, the most important element here is the roofline, which carves an elegant arc all the way to the powerful breadth of the C-pillar, emerging seamlessly from the rear side panel. At last the interior of the 2012 SEAT Toledo Concept portrays the modern lines of the exterior and gives a feel for spaciousness. The cockpit delivers a feeling of ergonomic clarity, with the top of the dashboard seeming to float effortlessly above the air vents and trim elements. Furthermore, the light coloring of the interior comes with stitching of the leather seats and the leather cladding on the cockpit and doors. All this emphasizes the superb character of the new Toledo Concept.
Source: SEAT