2013 Seat Toledo finally revealed
2013 Seat Toledo has just been unveiled with its new dynamics, elegant and modern design, and highly efficient TSI and TDI engines.
This attractive design is combined with practical characteristic: this new Seat model features generous space, a high degree of flexibility and outstanding efficiency.
All in all it has a length of 4.48 metres, which makes the new Toledo four centimetres longer than its predecessor. This means that it will offer enough space for all its passengers. Despite its saloon-like profile, this model has a large, wide-opening rear hatch.
As you can see this Seat Toledo has a powerful and solid stance, with clear and precisely defined surfaces, lines and edges. The current design philosophy of the brand can be seen through the broad, angular headlamps.
Combined with thee trapezoidal and slender grille, the lower air intake and the horizontal rear light clusters, bring added visual elegance this Seat. Furthermore, the designers have refined the roofline as well: it runs in an elegant arc to the broad C-pillar, which rises smoothly from the rear side portion.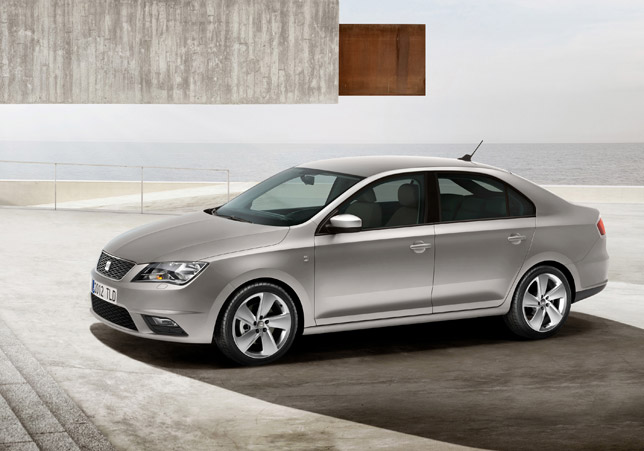 More importantly, the engines featured here are offered in wide range: the most impressive ones are the highly efficient TSI petrol engines in 1.2 and 1.4 displacements, and a 1.6 common-rail TDI unit. Moreover, the seven-speed dual-shift gearbox (DSG) can be seen mated to the most powerful petrol variants. The petrol engines produce between 55 kW (75 PS) and 90 kW (122 PS). The petrol Ecomotive version boasts CO2 emissions of just 116 g/km.
The Ecomotive version of the TDI diesel engine – which generates 77 kW (105 PS) from a displacement of 1.6 litres –and in addition also delivers best-in-class CO2 figure of 104 g/km. It is promised that in the 2013 the range of engines will be expanded with a 66 kW (90 PS) TDI one.
The standard safety package in this vehicle is: driver and passenger airbags, front side airbags and head/thorax airbags, central locking, a two piece folding rear bench and power windows in the front.
Pricing and specifications for the 2013 Seat Toledo will be revealed closer to its on-sale date early in 2013.
Source: Seat