2012 Senner Nissan Juke 20 Tzunamee Candy Red will spice your life
2012 Senner Nissan Juke 20 Tzunamee Candy Red is the latest conversion by the exceptional tuners from the German-based company Senner Tuning is on the impressive Nissan Juke 1.6 DIG Turbo. What is so specifically attractive here is its special red and spicy exterior color, which I must admit – immediately captured my heart!
The original power of this brilliant machine comes form a 1.6-liter DOHC 16-valve turbocharged 4-cylinder engine. The latter is able to produce the 190 hp (160 kW) at 240 Nm (177 lb-ft) of torque. After the tuning however, this redish beast will deliver its customer the joy of experiencing the 225 hp (165 kW) at 275 Nm (203 kW) of torque.
In addition to that in terms of engine has been used a power converter thanks to which the electronic throttle was tuned. Moreover, performance air filters has been added as well. The exhaust system on the other hand comprises of four-pipe stainless steel sports exhaust tailpipes.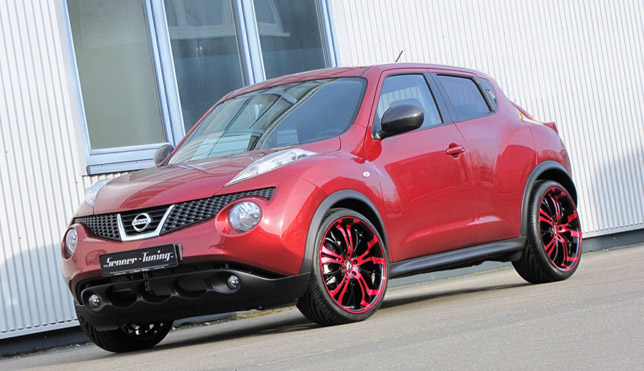 The special and attention-grabbing exterior colour finish is called Red Force and it undoubtedly gives the Nissan more confidant stance and unique appearance. In alignment with this one-of-a-kind external finish are the rims, which are finished in Barracuda Tzunamee flash color red polish. The mirrors have been additionally enhanced with carbon fiber.
The tires used for this tuning are the 255/30 R20 92Y Ultrac Sessanta for both front and rear. They carry a speed Index of Y - 300 km/h.
Some additional changes have been made to the chassis, which has been lowered for more aerodynamism. This was achieved through 35mm lowering springs i.V. with serial shock absorbers.
The interior of this outstanding Juke was also tuned. It wouldn't be that perfect if it wasn't!
The modifications here have been done on the center console and door handles, which are painted in the exceptional body color. The additional tunings in the interior include: WY21W Philips Silver Vision Chrome flash bulbs and LED indicator lights.
Source: Senner Tuning