Shelby Mustang GT350 and GT350R Getting Stronger with 526HP [videos]

Ford Shelby Mustang GT350 and GT350R are going to get stronger due to one single fact: they are getting Ford's 5.2-liter V8 engine. This one is in fact the most power-dense naturally aspirated road-going engine that the company has ever produced. It is also regarded as Ford's highest-revving production V8 with a redline of 8,250 rpm.
To be more precise, the 5.2-liter flat-plane crankshaft V8 pumps out 526 horsepower (389 kW) at 7,500 rpm and 532 Nm (429 lb.-ft.) at 4,750 rpm, and it will be powering only the two Shelby models. The unit is not only the most powerful naturally aspirated one, but also it is the most efficient… Or at least in terms of specific output. It generates 102 horsepower per liter of displacement.
SEE ALSO: Why Shelby GT350 Mustang Has the Best Handling Ever?
The design of this new V8 was improved with the help of computer-aided engineering and digital performance simulations. The optimal combination was achieved after millions of intake, cam and exhaust configurations were made.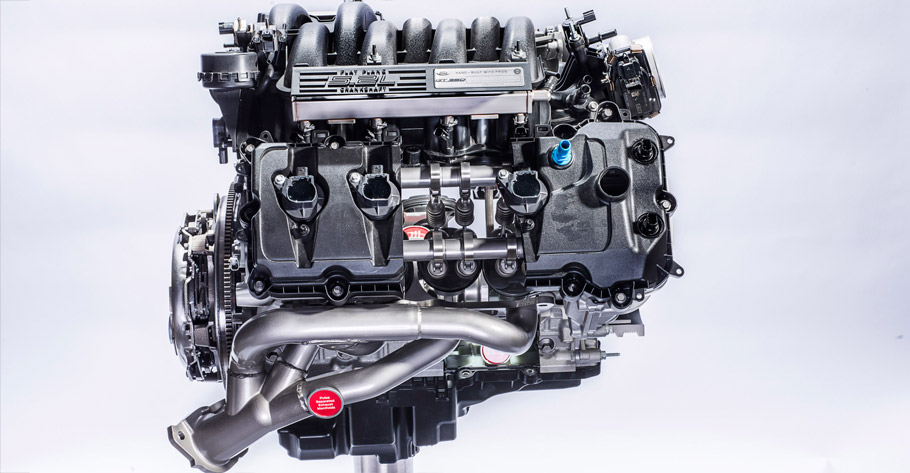 Usually, the cross-plane crankshaft V8 engines have their piston-carrying connecting rods attached to the crankshaft at 90-degree intervals. Unlike this in the new engine, the angle is changed to 180-degree.
The first noticeable result is the change of the characteristic sound of an American V8. The next one is the improved cylinder exhaust-pulse separation, that also enhances engine's breathing, thus allowing it to produce more power.
Both Shelby GT350 and GT350R will get the 5.2-liter unit mated to a TR-3160 six-speed manual transmission as an only option. It was specifically engineered for less mass and high-rpm application.
The unique Ford 5.2-liter V8 engine is scheduled to go on sale this fall. And here you can check out how it sounds, because this "noise" will be soon terrorizing tracks around the country.
Videos Source: YouTube
Source: Ford