Skoda CitiJet Concept at Goodwood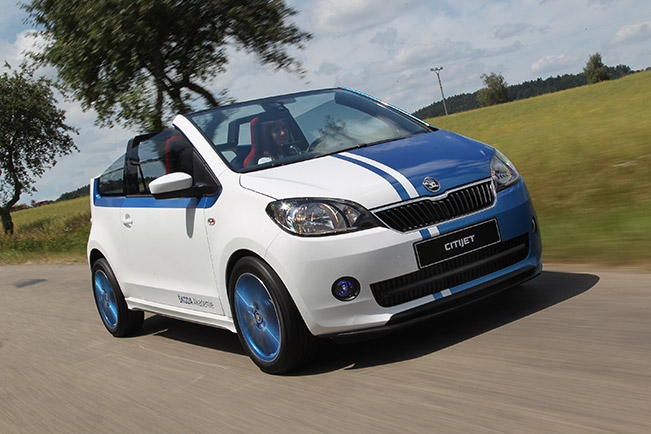 Skoda is going to present the CitiJet Concept at the 2014 Goodwood Festival of Speed (starting today). The small open-top car is designed and built by 16 apprentices under the guidance of Jozef Kaban, Head of Skoda Design, who challenged the team to build their dream car. Obviously, the dreams of the apprentices don't include a powerful engine and epic sound from the exhaust system.
Skoda CitiJet is a striking cabriolet that combines a host of innovations and unique design features.
The exterior features distinctive two-tone metallic paintwork, 16" wheels and a hand-crafted rear spoiler. The interior boasts a red-stitched, leather-trimmed steering wheel, bespoke seat trim and a dashboard panel finished in white and red. Completing the interior package is a 300 watt sound system and music-reactive LED lighting.
No words about engine, but since the CitiJet is in the same segment as the Citigo, it will obviously get a 1.0 liter MPI petrol with either 60HP (44 kW) or 75HP (55 kW). The engine is available with either 5-speed manual or an automated-shift gearbox (ASG). The fuel consumption will be around 4.1 liters / 100 km with CO2 emissions of below 100 g/km.
As in previous years, Skoda will be the main attraction at the Forest Rally Stage. The brand's legendary Fabia S2000 – the most successful rally car of the Super 2000 era – will be demonstrating its remarkable talents on the Skoda-supported 1.7-mile Forest Rally Stage.
Source: Skoda