Skoda To Debut CitiJet Design Concept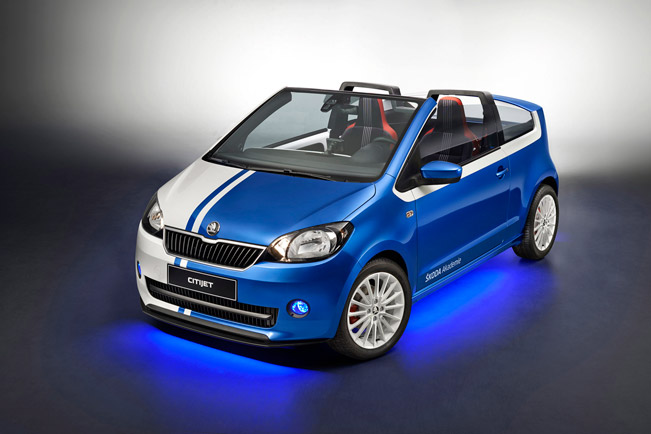 Skoda CitiJet Design Concept is the second concept vehicle we present today that is to have its premiere at the Woerthersee Festival in Austria. It is a two-seater sports convertible, which is based on the Skoda Citigo. The design concept is the result of brand's 'Apprentice Car' project. The work on the car lasted six months - from November 2013 until shortly before the GTI event. The creativity of the apprentices was supported by Skoda's Head Designer Jozef Kaban and his team. The result is undoubtedly an emotional design concept that will attract the attention of visitors at the event.
The exterior of this concept includes distinctive metallic paintwork in blue/white and racy. The car runs on blue 16-inch alloy wheels and also features a hand-made rear spoiler as well as a powerful exhaust with two tailpipes. CitiJet Design Concept is powered by the 1.0 MPI petrol engine which develops 55 kW (75 hp).
Inside, the interior is sporty and is based on the Citigo Sport special edition. This means that it includes red-stitched, leather-lined three-spoke steering wheel as well as the leather cover of the handbrake handle and gear knob.
The dashboard is painted white/red, while a 300 watt sound system will deliver perfect sound for the entertainment of the occupants. In addition, the interior also has music-reactive LED lighting.
Although this is the first time that this kind of trainee project has been undertaken at Skoda, it clearly has shown great results. The aim of the company was to encourage the apprentices' creativity, teamwork and expertise. The outcome: a truly unique and emotional car, of which everybody involved, should be very proud of.
Source: Skoda