Skoda Yeti Production Unleashed
The first Skoda Yeti rolled off the assembly line at Skoda's Kvasiny, Czech Republic plant on Tuesday 12 May 2009. With the start of series production, Skoda has officially introduced its fifth model line and entered the crossover segment. The very first Yeti spotted leaving the production hall was an Aqua Blue, four-wheel drive model, fitted with a 1.8 TSI engine.
Skoda has designed Yeti as it does all its models - for the way people use cars. Clever solutions include the flexible and practical VarioFlex rear seat system, which also makes it easy to increase Yeti's carrying capacity to as much as 1,760 litres.
Earlier, Skoda performed a number of final pre-production tests. One of the last test stages took place in the area around Oslo, Norway, which offered a variety of road surfaces similar to those seen in all European countries and most of the key regions outside Europe.
The test team used the diversity of roads and weather conditions to check some of the key systems, such as the driving stability system, ventilation and air conditioning system performance. The tests provided valuable information about the interaction between the respective control units, the chassis parameters and acoustic comfort, as well as the characteristics of the off-road systems.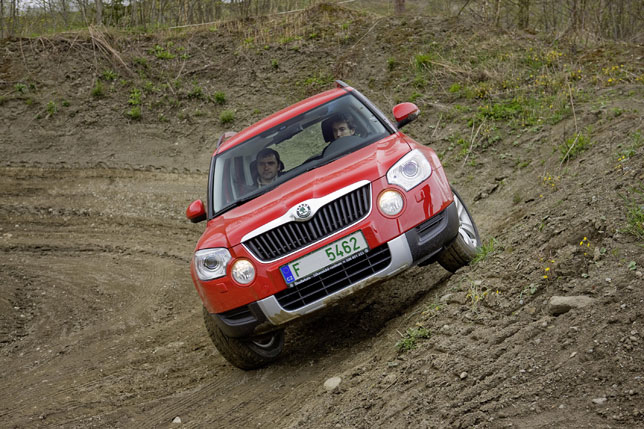 The vehicles tested in Oslo were a 1.8 TSI petrol and a 2.0 TDI diesel, both 4x4 models. The drivers tested the vehicles' behaviour on forest roads, as well as on an extreme downhill course using the downhill assistant, a new function enabling the driver to go down extremely steep hills in complete control.
Thanks to its higher ground clearance (180mm) and fourth-generation Haldex clutch system, the Yeti offers exceptionally good on-road as well as off-road driveability. Add in low fuel consumption and low CO2 emissions and Yeti gives today's drivers exactly what they require: economical running costs, outstanding flexibility, great practicality, and less impact on the environment - the hallmarks of a crossover vehicle.
The Yeti is a modern, smart crossover vehicle with a fresh attitude and compact dimensions: wheelbase: 2,578 mm; length: 4,233 mm; width: 1,793 mm; height: 1,691 mm.
Combining 4x4 strengths with hatchback practicality, Yeti is scheduled to go on sale in the UK in mid-September.
Yeti's dimensions: Wheelbase: 2,578 mm Length: 4,233 mm Width: 1,793 mm Height: 1,691 mm Ground clearance: 180 mm Boot space: 1,760 litres (with seats removed)