Smart For-us Concept Grants Mobility For-us
It is rare to hear from Smart (the Daimler AG microcar subsidiary) but today we have big news. Well, small actually but either way – A Smart For-us concept will premiere at the NAIAS at it is a pickup... sort of.
With 3547mm in overall length and 1506mm in width it wont fit much farming equipment, will it? Yes, it does have a cargo bay but even that is crammed with two clever or rather "Smart ebikes" which sit docked at the back and keep their charges up by using the batteries from the For-us.
Did we mention that the For-us is all-electric? Because it is. It has a 55 kW 'magneto-electric' motor which delivers a torquey punch of 130 Newton metres. Top speed, Smart say, will be more than 120 km/h which is understandable because as we said it's not very big really.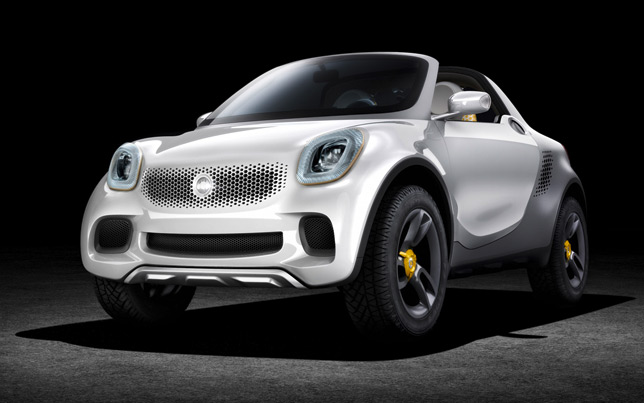 But one cannot be cross at Smart for this is what they do. The "mobility-concept" is Smart's answer to congested city districts, impassable trails and general urban havoc. In terms of aesthetics, the For-us is in a category of its own – the two seats, wrapped in their yellow fabric, keep it stylish and simple, the cabin design has aerodynamics in mind and there's a familiar face smiling at us from the grille.
Source: Smart