SMS 302 Ford Mustang - more power and better looking
SMS Signature cars are most eagerly awaited by all Mustang fans all over the world. The 2010 SMS 570 Challenger was launched in the spring of 2009 and now it is time to introduce SMS 302 Mustang, which is the second car of all three in the SMS Series. The 2011 SMS 620 Camaro is expected later this year.
"Many automotive enthusiasts have embraced our SMS 570 Challenger, but I know our core fans have been waiting for the first Mustang to come from the new company, SMS Supercars. I am thrilled to be able to end the suspense today. With the new 5.0L 2011 Mustang arriving at dealerships shortly, it was appropriate for us to act swiftly and present our SMS 302 Ford Mustang based on this early model year change. We know the 302 name will excite any Mustang fan as well", said SMS Supercars President and CEO Steve Saleen.
"Our line of SMS Mustangs will be the only Mustangs authorized to bear my name, to use the benefit of my heritage and to incorporate performance innovations derived from my over thirty years of racing and manufacturing experience. With the extensive design, development, manufacturing, certification and warranty coverage that we put into each vehicle, the government agencies all recognize SMS as the manufacturer of record for these cars", added Steve.
The engine is 302 cubic inch (5.0L) naturally aspirated V8 with twin overhead cam delivering 440 hp and 400 ft-lb of torque (541 N/m). These results are achieved by  an all-new 4-valve head design, a high flow exhaust system, an optimized pulley drive system, premium fuel calibration and performance filtration.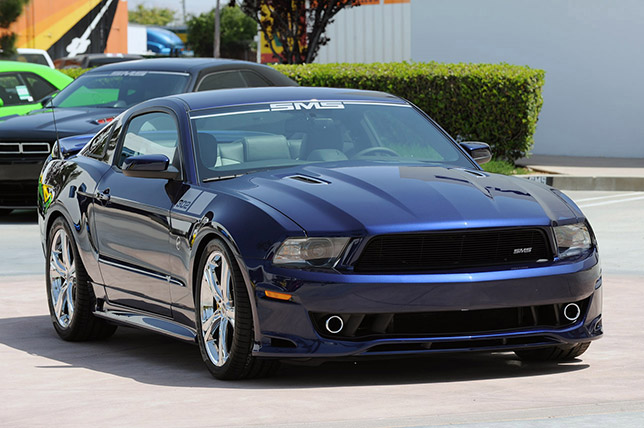 SMS 302 Ford Mustang (2011)
Adding 296 Supercharger System with Asymmetric Multi-Lobe Screws SMS, Six-PackTM Intercooler System and SMS patent pending Duo-Path Induction and the figures make real sense - 535 hp and 450 ft-lb (610 N/m).
Both engines can be coupled with a 6-speed Automatic or a 6-Speed TR3650 Manual.
The acceleration is just stunning - 0-60 mph in 4 and a half seconds and 1/4 mile in 13.5 seconds at a speed of 116 mph. The more powerful SMS 302SC is even better - 4.3 seconds to 60mph and 1/4 mile in just 12.1 seconds at 119 mph.
The suspension is a unique SMS S4 High Performance consisting of S4 Specific Rate Front and Rear Springs, S4 Front Struts, S4 Rear Shocks, S4 Front and Rear Sway Bars with High Durometer Pivot Bushings and the all-new SMS unique S4 Watts Link rear suspension.
SMS 302 Mustang stands on huge 5-spoke 9Jx20" wheels fitted with Pirelli PZero High Performance 275/35ZR 20 at the front and 10Jx20" wrapped in 275/40ZR 20 at the rear.
The impressive stopping power is delivered by Powder Coated Calipers and High Performance Racing pads with ABS system.
"The SMS 302 is a dramatic, timeless and iconic visual statement that confidently leads the pack, continuing the evolution of the image of the SMS brand.", said Chief Creative Officer of SMS, Phil Frank.
One of the most eye-catching thing in SMS Mustang is the patented SMS Red ButterflyTM Center Ram Air Induction which debuted in 2008 on the SMS 25th Anniversary Mustang Concept. "When those butterflies crack open under throttle, people stop and stare.", happily noticed Mr. Saleen.
Inside, the sport seats are covered in Alcantara and leather. There are two-tone leather chevron door inserts, a leather-wrapped billet aluminum shift knob and leather wrapped steering wheel set the SMS 302 apart from lesser offerings. Instrumentation features a 200 mph gauge cluster and a supercharger gauge pod with boost and charge air temperature gauges for the SMS 302 SC. The media system is a powerful Shaker 500 Stereo with SYNC® and a 276 Watt amplifier.
After a number of tests - extensive quality control and dynamic driving, each SMS 302 is personally signed by Steve and then receives its matching serialized SMS VIN on the engine bay plaque, dash plaque and front bumper.