SPEED-BUSTER celebrates the 30th anniversary of BMW M5 with unique tuning program

SPEED-BUSTER offers comprehensive power upgrade for the entire BMW M5 range
BMW 5-Series is 44 years old! Can you believe that? It is almost impossible to grasp that one of the most iconic models in BMW's lineup has debuted back in 1972 and ever since then it has been praised as being one of the best middle class prestige saloons. Fourteen years later, in 1986, BMW released an M version (M5) of the model, topping a 286 hp of performance and taking the crown as the fastest production saloon in the world! How cool is that actually!
But what happens with the current M5 series. BMW is celebrating 30 years of its introduction with the release of a special edition model. What is more, it has added the unique Gran Turismo variant, which in our opinion shows even better the capabilities of the outstanding Bavarian company.
SEE ALSO: The ultimate performance machine BMW M2 gets styling and performance upgrade
The current series, M5 F10, has a power output between 560 and 600 hp depending on the variant one chooses. The horsepower is pretty much enough, but for those who want even more there is always someone who will offer "even more". In this case, such someone is the renowned chip tuning company SPEED-BUSTER. The experts there have prepared a muscle-building program for the German blockbuster.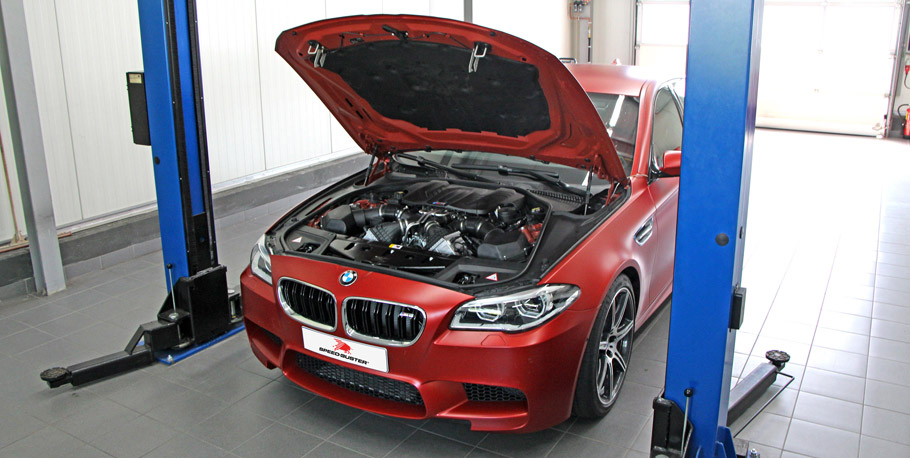 They have developed a special Chiptuning-Box, which re-maps the electronic brain controlling the TwinPower Turbo V8 engine. If one has chosen to go for the "30 Years" anniversary model, then after the modification he or she will be getting up to 695 hp, which is an increase of 95 hp. The torque has been uprated from 700 Nm to 844 Nm.
Owners of the of the M5 Competition Package variant are getting even more. The power increase has been estimated around 108 hp, thus making the numbers increase from 575 hp to a rousing 683 hp, with peak torque up from 680 to 839 Nm.
The least powerful variant among the M5s is the standard one which comes with "only" 560 hp and 680 Nm. After the SPEED-BUSTER Chiptuning-Box intervention, it is now capable of 631 hp and 820 Nm.
Source: Speed Buster