Sporty Additions to Mercedes-Benz A-Class W176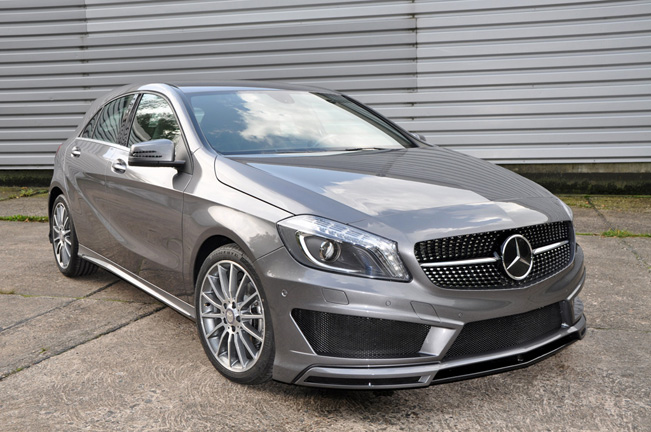 An absolute premiere in the high-performance vehicle segment. For the first time Mercedes AMG has built a true AMG for the compact class. The AMG is equipped with the world's most powerful stock four-cylinder turbo engine. With a power output per liter displacement 233 kW (315 hp), it exceeds even the most powerful super sports cars. With its maximum power output 256 kW (247 hp), and maximum torque curve of 156 Nm (115 lb-ft) and the standard AMG 4matic all-wheel-drive, stands for a really sporty driving experience.
The new AMG A Class W176 accelerates from 0 to 100 km/p (0-62 mph) in only 4 seconds, at the same time it delivers convincing duel consumption with 6.9 liters/100 km, (41 UK mpg), (34 US mpg) and already fulfills the EU 6-exhaust gas standard. Mercedes AMG enhances the already  amazing exterior design of the new A class with strikingly sporty accents such as the eye catching, twin blade radiator grille , the 2 angular chrome tailpipes.
With an absolutely new line  the Swabian premium manufacturer now focus on younger and more sporty audiences. The redesigning the vehicle by the German styling specialists in Chemnitz has taken on a step forward equipping this car with new spoiler bumpers for both the rear and the front of the AMG A class.
Dynamic, powerful and unique, the AMG A Class W176 sets new standards in the compact car segment.
Source: Mercedes-Benz