LUMMA Tuning Mercedes-Benz SLK R170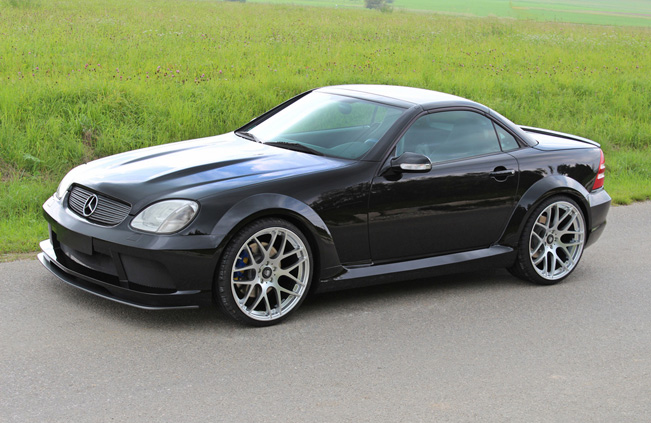 Since the release of the series 170 , mercedez-benz introduced a brand new roadster model in 1996, the SLK ( sporty light and short). One of the spectacular technical features of the model is the Afaria folding roof which folds in just 25 seconds. This is the first Mercedez car delivered without a spare tire, instead tire fit is included. The SLK continues its path of success with a new look along with technological advances. The ESP(electronic stability program) along with 6 gear transmission.
A lot of years have passed since then, yet the SLK R170 still looks like a modern car. LUMMA Tuning experts as well as i-move gmbh recently designed a new wide body kit which is known as "Black Move".Chassis is  "Bilstein" coilover suspension system.
Equipped with an all new front spoiler bumper (aluminum grill inclusive) it gives the SLK R170 a fresh renewed look. The ride has a new motorsport look with its new tail bumper with integrated diffuser. The wide position of the small roadster is support by new front fenders which lead the aircurrent aside.The "Black Move" body kit also consists of: Tail apron bumper with diffuser (aluminum grill inclusive),Real wheel arch widenings  and side skirts.
The exaust is "Angular LUMMA Tuning" tailpipe trims.A more economical alternative, the tail damper can be connected with the tailpipe. If you are one of those extreme motorsports enthusiasts, you can also get the parts in extremely lightweight carbon construction.
Moreover, the LUMMA Tunning "Black Move" vehicle is equipped with light alloy set of wheels in 8,5 by 20 and 10 byt 20 inches. The tyre dimension is 235/30R20 as well as 285/25R20. A bilstein coilover ensures perfect positioning and cooperation between the wheel and tire combinations.
Source: Mercedes-Benz