Subaru BRZ tS Limited Edition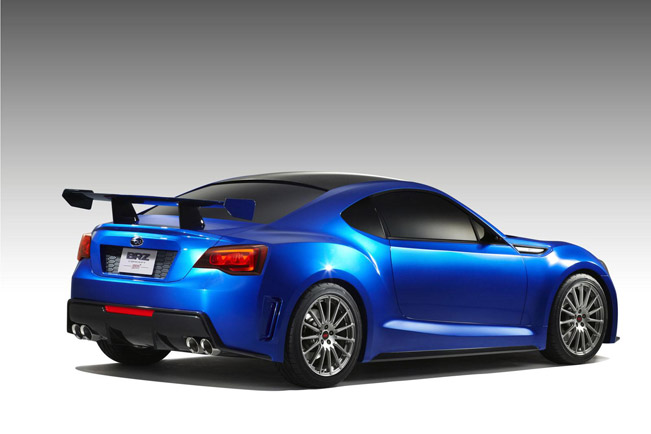 Subaru has announced the BRZ tS, which hits the market today through the dealerships in Japan.
The inherent handling performance of the Subaru BRZ has been further enhanced by using expertise developed in motorsports while achieving the "strength and nimbleness" driving committed by STI. The "SUBARU BRZ tS" offers a driver "oneness with vehicle" and "agile handling pleasure".
The upgrades include 18" silver STI-designed wheels, Brembo brake kit, front add-on spoiler, STI rear suspension link with pillow ball bush, along with reworked coil springs and shock absorbers.
The interior boasts aluminum side sills, Alcantara applications and new front seats.
The engine is the well-known 2.0 liter boxer with 200HP (147 kW) and 205Nm of torque.
2013 Subaru BRZ tS is limited to just 500 units and all of them must be preordered before March 9, 2014.
SUBARU BRZ tS GT PACKAGE
-Mechanism- 225/40ZR18 (92Y) tires (Michelin Pilot Super Sport) STI designed 18" x 7 1/2J aluminum wheels (silver) brembo front 17" opposed 4-pot ventilated disc brake with "STI" logo brembo rear 17" opposed 2-pot ventilated disc brake with "STI" logo STI designed rear suspension link with pillow ball bush (trailing link front, lateral link front inside & rear inside) STI tuned strut and STI coil springs for front suspension STI tuned damper and STI coil springs for rear suspension STI designed flexible tower bar, front STI designed flexible draw stiffener, front STI designed large-diameter driveshaft Exclusively-tuned VDC (Vehicle Dynamics Control) Exclusively-tuned filter for Sound Creator®*2
-Exterior- STI designed front under spoiler STI designed front fender garnish with "STI" logo Exclusively-made "STI" ornament (front & rear), "tS" ornament (rear)
-Interior- Exclusively-made front seat with "STI" logo and red stitch [Alcantara®*3 (gray punching) / leather (gray), "STI" logo, gray stitch, front seat heater, SRS side airbag] Exclusively-made leather lapped steering wheel (with "STI" ornament and red stitch) STI designed leather shift knob (manual transmission) / select lever (automatic transmission) with "STI" logo Exclusively-made speedometer with "STI" logo Exclusively-made speedometer visor [Alcantara® (black), black stitch] Carbon tone instrument panel STI designed push engine switch with "STI" logo (red) Exclusively-made aluminum side sill plate with "tS" logo STI designed leather access key cover (red)
-Equipments for GT PACKAGE- STI designed 18: x 7 1/2J aluminum wheels (black) STI designed dry carbon rear spoiler (2 angle adjustable) Recaro designed front bucket seat [Alcantara® (gray punching) / leather (gray), "STI" logo, gray stitch, SRS side airbag]
*2: Sound Creator® is the registered trademark of MAHLE Filter Systems Japan Corporation. *3: Alcantara® is the registered trademark of Alcantara S.p.A
Source: Subaru