2015 Subaru Legacy Concept With World Debut In Los Angeles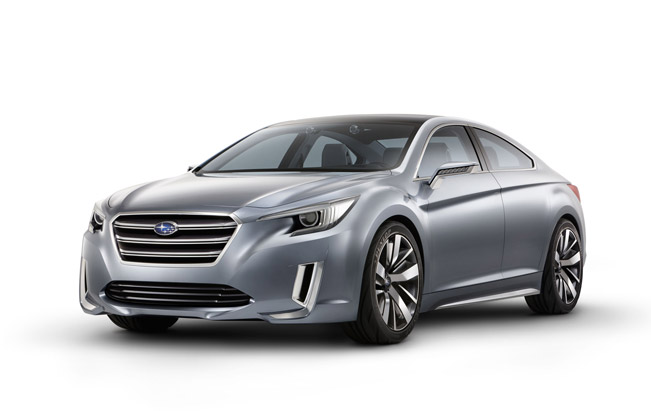 2015 Subaru WRX will make its official debut in the forthcoming Los Angelis Auto Show. In addition, Subaru will also officially reveal another star - 2015 Legacy Concept. The model comes to commemorate the 25th anniversary of the Subaru Legacy.
2015 Legacy also provides look at the styling cues for future models in the line-up. The car has an exterior decided in the voluptuous custom-made Ocean Silver Metallic paint. Moreover, from what we can assume after viewing the photos, the vehicle has more coupe-like silhouette.
Subaru Legacy Concept is a modern interpretation of the popular model and what is more, it includes more distinguished front design with a new hexagonal grille and a sharper hawk-eye headlamp design. The car runs on 21-inch wheels with flared wheel arches, which also hint at the standard Subaru Symmetrical all-wheel drive drivetrain.
The same unique design philosophy can be seen at the back, where the pronounced character line flows into the short rear deck and ends in the rear tail lamps. Of course, the latter, echo the hawk-eye headlamp design and improve the solidity of the overall design. LA Auto Show will start on 20th of November, so stay tuned for more surprises until then.
Source: Subaru