2014 Subaru Legacy And Outback Now With Symmetrical AWD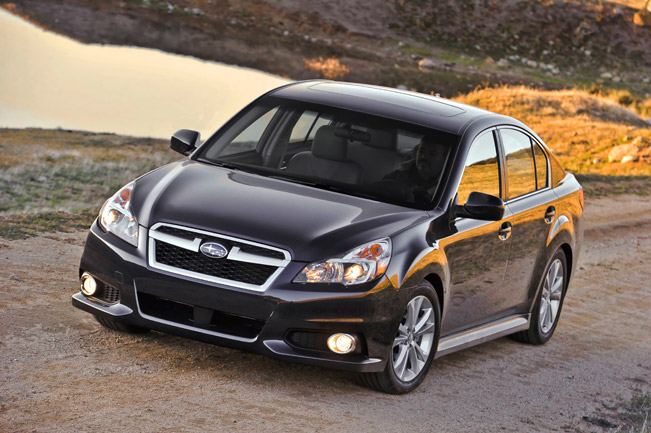 2014 Subaru Legacy And Outback models are equipped now as a standard with Symmetrical All-Wheel Drive and many more additions. Despite the increased equipment, the 2014 models have almost the same price as those specified for the year 2013.
The Legacy 2.5i and Outback 2.5i models are propelled by a 173 horsepower (127 kW) 2.5-liter 4-cylinder BOXER engine. It was introduced last year and it brought enhanced fuel efficiency. The engine of the Legacy can be either matched with a six-speed manual transmission or with the Lineartronic® continuously variable transmission (CVT).
The Legacy 2.5i Premium and Limited models come standard with the CVT. On the other hand the Outback line offers a choice between the six-speed manual and CVT is offered on the 2.5i base and 2.5i Premium models. Outback 2.5i Limited comes as a standard with the CVT.
To be more precise, the Legacy and Outback 3.6R Limited models are powered by 3.6-liter 6-cylinder BOXER unit which is mated with a five-speed automatic transmission. The engine delivers 256 horsepower (188 kW).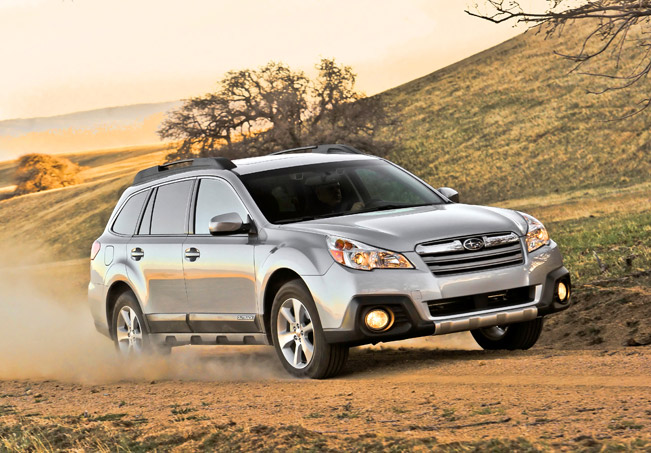 What is absolutely new for the 2014 Legacy 2.5i Premium and Outback 2.5i Premium models is that they feature as a standard the All-Weather Package. The latter includes heated front seats, heated side mirrors and windshield wiper de-icer.
In addition, the Premium models also have a standard a display audio system with a 4.3-inch screen, 6 speakers and SiriusXM Satellite Radio. As an option there is available rear camera system.
Last year, Subaru introduced the advanced EyeSight driver-assist system for the Legacy and Outback Limited models. This year, the same feature is also present in the Premium trim line as an option. EyeSight utilizes innovative Subaru-developed stereo camera technology, integrates Adaptive Cruise Control, Pre-Collision Braking and Vehicle Lane Departure Warning.
The brand today introduced the pricing for the 2014 Legacy and Outback model lines, which is listed in details below. It is important to mention that although the 2014 specifications have received upgrades, there is almost no increase over the 2013 models. The starting is estimated at $20 295.
2014 Subaru Legacy
Model/Trim
Transmission
Options available
MSRP
MSRP + destination and delivery
Legacy 2.5i
6MT
--
$20,295
$21,090
Legacy 2.5i
CVT
01, 21
$21,295
$22,090
Legacy 2.5i Premium*
CVT
04, 39, 41
$23,295
$24,090
Legacy 2.5i Sport
CVT
02, 37
$25,245
$26,040
Legacy 2.5i Limited
CVT
04, 39, 43
$25,895
$26,690
Legacy 3.6R Limited
5AT
04, 39, 43
$28,895
$29,690
2014 Subaru Outback
Model/Trim
Transmission
Options available
MSRP
MSRP + destination and delivery
Outback 2.5i
6MT
--
$23,495
$24,320
Outback 2.5i
CVT
21
$24,495
$25,320
Outback 2.5i Premium*
6MT
--
$25,795
$26,620
Outback 2.5i Premium*
CVT
04, 39, 41
$26,795
$27,620
Outback 2.5i Limited
CVT
04, 39, 43, 45
$29,095
$29,920
Outback 3.6R Limited
5AT
04, 39, 43, 45
$32,095
$32,920
Options
04
Moonroof Package
$1,445
21
Alloy Wheel Package (includes 17-in. alloy wheels and fog lights)
$300
37
Navigation System
$1,300
39
Moonroof Package and Navigation System
$2,745
41
Moonroof Package and EyeSight
$2,740
43
Moonroof Package, Navigation, EyeSight
$4,040
45 (Outback only)
Special Appearance Package* and EyeSight

(Includes Moonroof, Navigation, Smart Key, Memory Seat and more)

$5,040
Source: Subaru