TechTec BMW 1-Series M Coupe
TechTec has announced a special styling and performance packages for the BMW 1-Series M Coupe. With the upgrades, the small car will become a real monster and it will be perfect for time attack at the race track.
The performance upgrade can boost the twin-turbo 3.0 liter inline six-cylinder up to 450PS and 630Nm, instead of the factory's 340PS (250 kW) and 500Nm (369 lb-ft) of torque.
Stage 1 includes an ECU re-map, so the engine will produce 380 PS (280 kW) and 580Nm (428 lb-ft). The price is just €1 500.
Stage 2 comes for €2 500 and the power becomes 400PS (294 kW) and for €3 300 you will get Stage 3 will full 450PS (331 kW) and 630Nm (465 lb-ft). Nice. The acceleration is a bit faster than some Ferrari models and almost all normal Porsches – 4.1 seconds to 100 km/h.
Furthermore, TechTec equipped the 1-Series M Coupe with a KW club sport suspension and a titanium sports exhaust system from Akrapovic.
Finally, the car get a shiny paint and some vinils.
Prices are not announced, yet.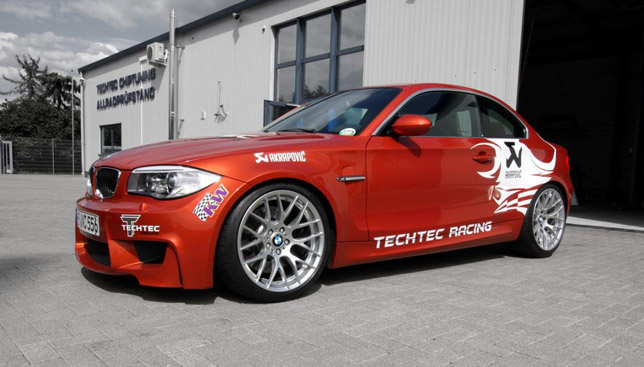 Source: BMWBlog