Would the Bold Tesla Model X be the Last Premium Tesla Vehicle?

After three years of research and hard work, Tesla released its latest vehicle -  the Model X. On Tuesday, Tesla CEO Elon Musk took the stage at the company's California manufacturing plant and personally unveiled the latest Tesla model.One of the most noticeable changes in the latest Model X vehicle is definitely the size. The vehicle is larger than its predecessor Model S and comes with three full rows of seats and completely restyled doors, the so-called "Falcon wing doors" that open vertically. And along with the "falcon-ish" elements, Tesla also geared the vehicle with all-wheel drive and numerous handy gadgets and tweaks.
It's important to show that any type of car can go electric. We did it with the sports car, the sedan, and, now, we're going to show it with an SUV.
First of all, the front doors can open automatically, while the windshield is big. Really big. Furthermore, the Model X offers a special front console that has numerous features one of which is to charge almost any kind of mobile phone. The back seats automatically lean forward to open space to the third row and there is also space under them for additional cargo. Handy, right?
SEE ALSO: Tesla S Model Received Some Additional Significance by MANSORY Team
But let's go back to the falcon stuff. The doors I mean. What is also special, along with the horizontal movement is that they save up space while the vehicle is at some parking space. It is a matter of inches to open them. Cool, right?But along with the vehicle and its interesting additions, there is one more curious thing to say. Tesla Model X might well be one of the last premium models that the brand will produce. It is already scheduled that the next Tesla vehicle will focus the mass market with price of about $35,000.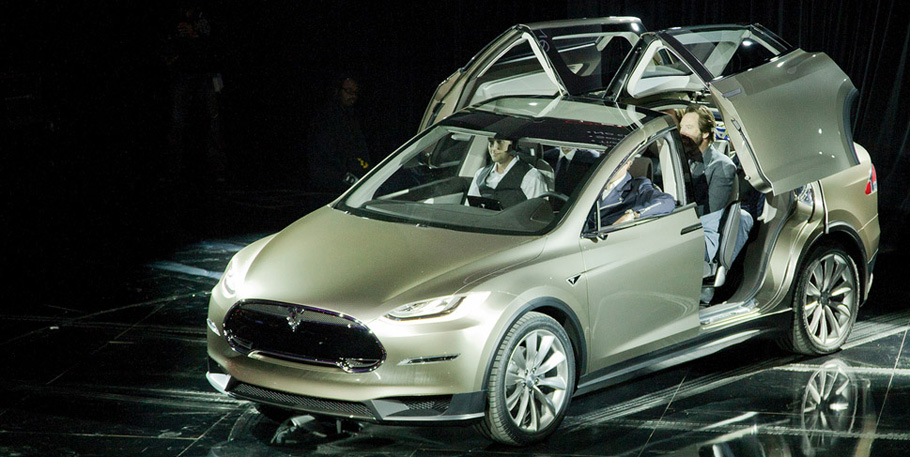 So, what do you think of the vehicle? I personally believed that with the "falcon wings" this machine could fly, alas I am sort of disappointed.