The 1970 Ford Mustang Boss 302 – raw power for all car enthusiasts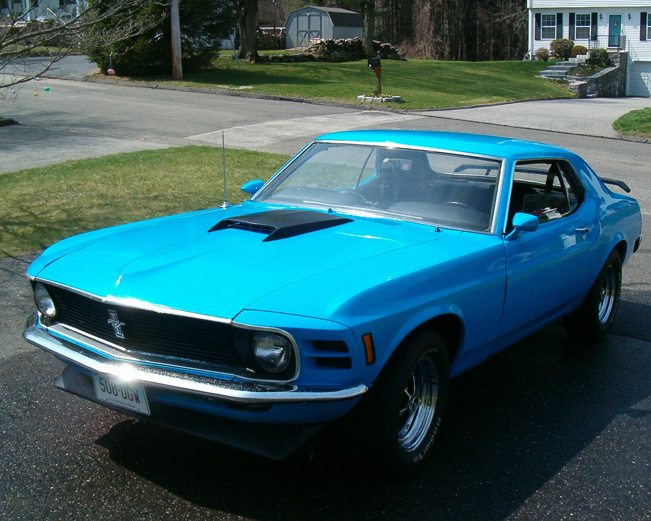 If you look back in time you will easily discover a number of popular, even iconic muscle cars. Today many of them still serve their owners and each one of them has a story to tell. But did you know that there are muscle cars, situated on top of muscle cars? That is, they are improved versions? Like the 1970 Ford Mustang Boss 302 that's an enhanced version of the regular Ford Mustang of that age? Don't worry if you failed this little test – now we are going to tell you something more about this great car.
Just like many cars in its class the 1970 Ford Mustang Boss 302 has a story to tell and it's a long and interesting one. Designed to compete in SCAA's Trans-Am series, the 1970 Ford Mustang Boss 302 carries strength and adrenaline in its veins right from the start. The car is an improved, more powerful version of the standard Ford Mustang of that time period and it even features a few more upgrades compared to the 1969 Ford Mustang Boss 302, which was the first model ever produced. Despite all the years that have passed by the importance and popularity of the car are still here as the Ford Mustang Boss 302 was once more produced as a modernized model in the years 2012 and 2013.
But what makes the 1970 Ford Mustang Boss 302 such an icon? The answer is simple: everything! The car is a powerful animal even for today's standards and do we need to tell you how valued it is nowadays? Built in limited numbers 40 years ago the vehicle is a hotly contested item if you happen to see it somewhere for sale and highly valued by collectors who keep one such Mustang here and there. The improvements featured in the 1970 year model add some spice to the picture too. The car is powered by a 4.9-liter V8 gasoline engine that outputs 290 HP (213 kW) and 290 lb-ft (393 Nm) of torque; the same engine is found in the year 1969 model. But like we said, the 1970 Ford Mustang Boss 302 has been touched here and there. For example the car comes with a diameter reduction of the intake valve from 2.23 inches (5.66 cm) to 2.19 inches (5.56 cm), which increases low-end torque for slightly better initial acceleration. Another change from the year 1969 model is that there is an increase in the engine compression ratio too – from 10.5:1 to 10.6:1. The most important change regards the water pump – it is moved to the driver's side, which also means changes in the radiator and the plumbing. The pump features 0.75-inch ball bearings to improve durability and a ceramic-faced impeller seal. The rest of the engine changes include an updated pulleys system, new accessory brackets, a new vibration damper and more. What's even better is that even nowadays, more than 40 years after the debut of the 1970 Ford Mustang Boss 302, there are engine parts everywhere so fixing the engine in case of need should not be a problem.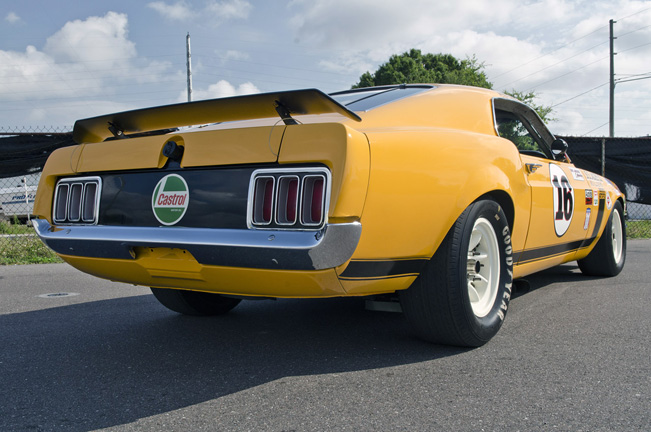 An engine is nothing without a transmission so here it is – the 1970 Ford Mustang Boss 302 features a 4-speed Toploader manual transmission but don't hope to find one with an automatic gearbox as it was never offered even as an option. To make things a bit more interesting Ford offered the manual transmission in two versions – with wide-ratio or with close-ratio; both are easy to identify by code – close-ratio is code 6, while wide-ratio is code 5. Both of them offer a Hurst T-handle shifter. The transmission is said to be very durable as with time passing by it became the basis for today's NASCAR Jerico transmissions. Even if you encounter problems, you can easily rebuild it – parts are plentiful and a master repair kit costs only around USD 140.
A powerful engine needs powerful brakes or otherwise how will you stop? Well, the 1970 Ford Mustang Boss 302 provides them. The car has power front vented discs that are strong enough to stop the car that weighs 3200 pounds (1453 kilograms) from 60 mph (97 km/h) to zero in just 112 feet (34 meters). You'd better wear a seat belt or you'll fly through the windshield if you attempt this somewhere! The rear brakes are cast-iron drums – an industry standard. Just like all other car systems that we have mentioned so far, the brakes can be easily serviced – you can find pads, new drums and cylinders for much less than USD 100. In addition to that you can find rear brake disks in aftermarket shops.
We can't continue the description of this great car if we don't say a few words about its chassis and interior. The chassis of the 1970 Ford Mustang Boss 302 is also a bit upgraded thanks to its Trans-Am origin. The car features "competition" suspension that consists of an independent front, tube shocks, coil springs rated at 320 lbs/inch and an anti-roll bar. There are rear leaf springs and staggered tube shocks that handle the rear load and an anti-roll bar that is not included in the year 1969 model. Unfortunately the 1970 Ford Mustang Boss 302 does not come with power steering as standard; available as an option it does not require much else than standard maintenance.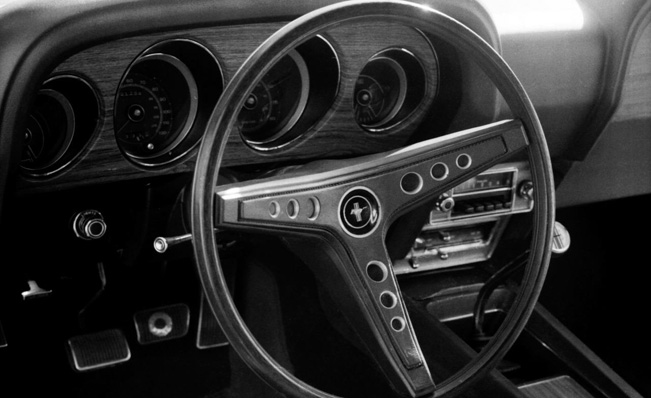 The description of this great and iconic car will not be complete if we do not say a word about what you will find inside the car. The 1970 Ford Mustang Boss 302 is a muscle car but it knows how to be gentle and that's why it treats you with a comfortable interior. Colored in black as standard the interior offers high-back, vinyl-clad bucket seats and instrument gauges that fit the 1970 Ford Mustang Boss 302 as a muscle car. The only things that are missing are the full-length console and the tach and trip odometers but they were offered as options back in the day. If you are lucky enough you will be able to choose among different colors for the full-length console too. On the outside you will find faux vents that underline the racy front end, reflective back stripes that come out of hood stripes at the aft edge, Boss 302 decals and other similar goodies. After all a muscle car does have to look like a muscle car, right?
The 1970 Ford Mustang Boss 302 does look and feel great, doesn't it? Unfortunately like with everything else we have to go back to real life. Only 6318 such Mustangs were produced decades ago and as you can imagine they are hard to find nowadays. Even if you encounter one of them prepare to spend between USD 46,500 and USD 105,500 on the car depending on its condition and looks. This is not cheap but at the same time the car is worth it. You not only get a muscle car, you get a living icon. If the 1970 Ford Mustang Boss 302 is your dream, then go for it – after all dreams exist to get fulfilled, don't you think?