The All-Seeing Toyota Sahara Is Here To Enhance Your Driving Experience

Toyota has released a special and unusual "all-seeing" LandCruiser 200  Series Sahara. What makes it special, compared to its stock brothers is indeed the incorporated camera applications that make it easier to perform manoeuvres from off-road to parking situations. Good thing is that drivers now can obtain a panoramic view around the Sahara via four cameras, geared in front, on the back and on the side mirrors. In fact, the front camera can rotate and can display enlarged images that would definitely be in use for the driver.
And as a true Toyota vehicle, the Sahara also adopts and advanced safety features as pre-collision system, dynamic radar cruise control, lane-departure alert and blind-sport monitor with rear cross-traffic alert. In addition, the vehicle comes with a total of seven airbags, active traction control, multi-terrain anti-skid brakes, hill-start assist and emergency brake signal.
SEE ALSO: Toyota Celebrates a Special Anniversary with a Special Concept
But what about the engine? This sweetheart is geared with either 4,5-liter twin-turbo diesel or the 4,6-liter petrol unit. And of course, both are redesigned to meet all Euro 5 requirements and to deliver even better fuel efficiency.
The diesel unit provides a total of 272 hp (200 kW) and 650 Nm of torque. It offers consumption, measured at just 9,5 liters/100 km and CO2 emissions of 250 grams/liter. On the other hand, the petrol engine comes with 308 hp (227 kW) and 439Nm. It delivers 13,4 liters/100km fuel consumption and 309 g/km of CO2 emissions.

And let's take a look on the style. All models are restyled and come with more aggressive stance, sweet new grille, headlamps, bumper and fenders. And on top of all, there are two additional colors: Copper Brown and Onyx Blue.
Furthermore, the model will be offered with a total of five trims: diesel-only GX, petrol or diesel GXL, VX and Sahara. All the trims come with special electronically controlled six-speed automatic transmission. Every trim level comes with some additions and exclusive features.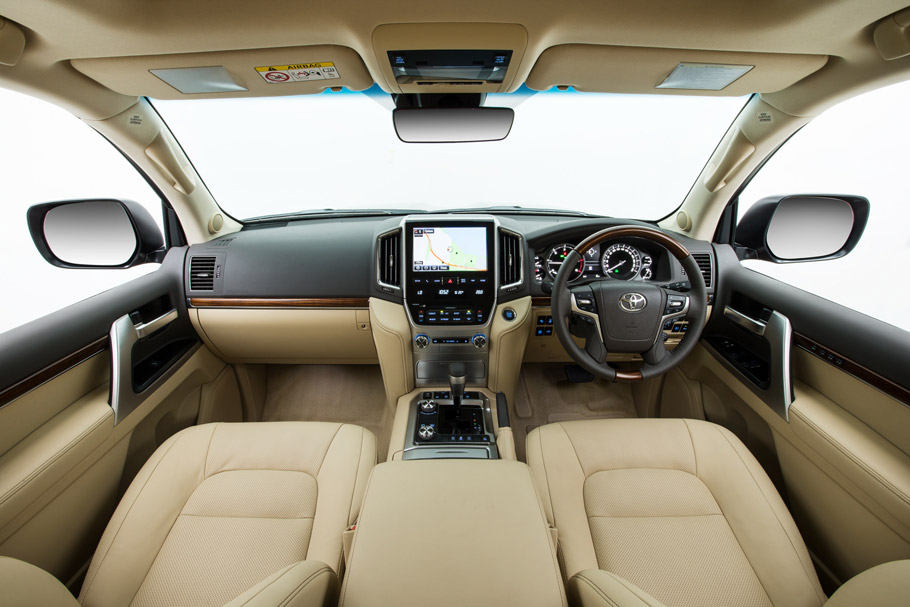 Powerful, versatile and safe. It looks like Toyota team brings even better and better contemporary solutions for customers and fans.
Source: Toyota