The Popemobile: what are the notable features?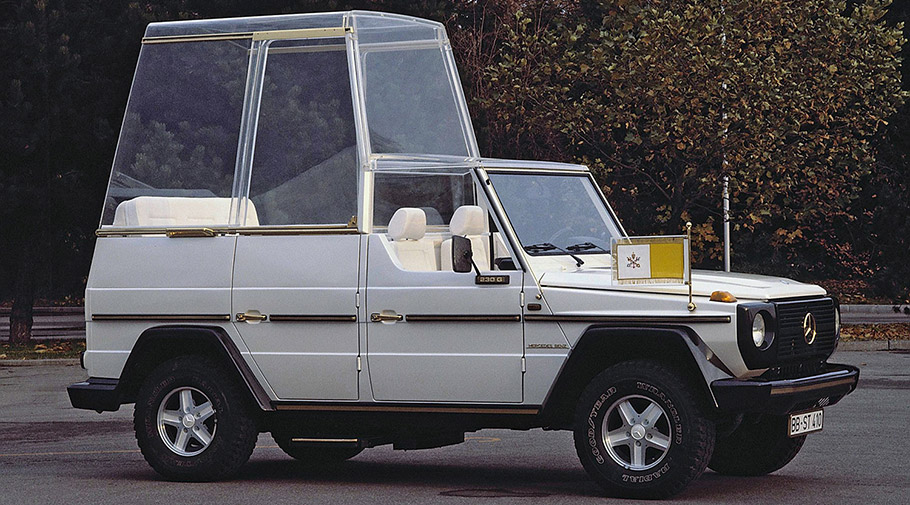 The Jeep Brand Provides the Popemobile
The "Popemobile" is an informal term used to refer to the vehicle that the Pope is traveling in, as you may have guessed!  And during Pope Francis's visit to the U.S. in September 2015, he spent plenty of time being shuttled around in a custom Jeep Wrangler Popemobile fleet.  The Pope also used similar Jeeps during his July 2015 trip to South America.  Previously  he has been transported in other car brands, such as Isuzu, Kia, Hyundai, and, less frequently, a Mercedes Benz.  For his U.S. visit, however, he selected a Jeep Wrangler platform much to the delight of US Chrysler, Dodge, Jeep and Ram dealerships.
The Pope's Choice of Vehicle, Projected Image & Safety
You may say using this vehicle, rather than the prestigious ones favored by his predecessors, is another example of the image Francis is attempting to project to the people. His United States trip consisted of visits to the cities Washington, D.C., New York City and Philadelphia on the country's east coast.
The Wrangler Popemobiles may not be luxurious vehicles but they are far from being ordinary Jeeps. This is the case according to the Sales manager at West Valley, a full-service Chrysler and Jeep car dealer in Canoga Park, CA.  The Vatican and the Secret Service refuse to release any kind of technical information on present Popemobiles but the ones used by Francis's predecessor, Pope Benedict XVI, had interesting features.  One may assume similar attributes would apply to the Wranglers. For example, the Mercedes-Benz Pope Benedict used when he visited the U.S. in 2008 was designed to drive up to 160 mph in the event of an emergency.
On another occasion, while traveling in Naples, the Pope traveled in a vehicle open enough on the sides to let a local pizza restaurant make a delivery to the Pope.
Pope Benedict's Mercedes was in addition equipped for roadway sabotage, with special tires capable of rolling if deflated, at speeds up to 70 mph.  The underside of this vehicle was braced with thick steel plating to protect the Pope in event of an explosion.
Did you notice that the Pope was meeting the people without glass shielding? The Popemobile was traditionally an open-topped automobile until the assassination attempt on Pope John Paul II in 1981. After that, John Paul and his successor, Benedict, seldom made parade appearances when not surrounded by multiple sides of bulletproof glass.  Pope Francis has steered away from that tradition however. According to a 2014 interview, the Pope didn't want to feel as if he was confined to a "sardine can" during his travels.
Conclusions
Now that the Pope's U.S. visit is over, the nation has time to reflect on what his message and general visit meant.  What is fascinating about his visit is his choice of vehicles and how strongly he felt about the image they portrayed. His message of austerity is certainly a strong one and something that will resonate throughout his chapter in Papal history.
We hope that you have enjoyed this article on the Pope's choice of automobile!
Source: West Valley, Canoga Park, CA