Totally Transformed: New Ad For 2014 Kia Soul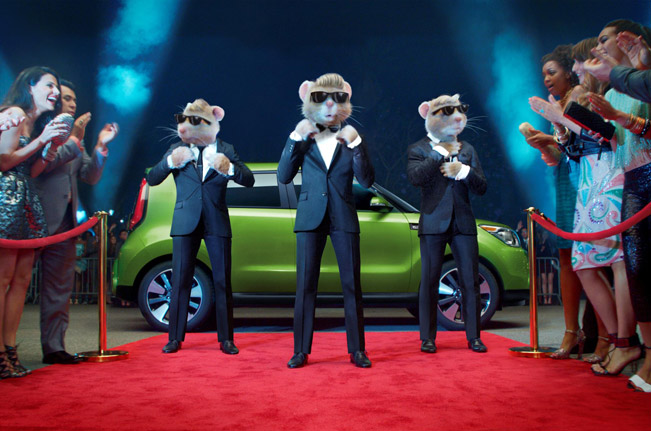 2014 Kia Soul was revealed last week and it was also disclosed that the vehicle is going to make its official European debut next month at Frankfurt Motor Show. Now it is time for Kia to present the advertising campaign of the new model.
The brand has already released an official video, which to be honest is my favorite commercial so far. In it the famous brightly clothed hamsters are appearing again. After their debut in 2009 they have become nearly pop icons, and I must confirm that thanks to this video their popularity will become even bigger.
Five years later, the hamsters have slimmed down and slicked their hair back, and come to introduce the latest version of 2014 Kia Soul. The ad carries the name "Totally Transformed" and it features Lady Gaga's newest hit "Applause".
In "Totally Transformed", the hamsters have followed suit by getting fit and developing a new fashion sense that reflects the sophistication of the newly refined Soul.
The redesigned Soul is more refined and functional than ever. It offers more room, more available premium features and materials, improved driving dynamics and an instantly recognizable fresh appearance.
The vehicle's design was inspired by 2012 Kia Track'ster concept, but it adds more freshness and attitude. It retains the outgoing model's upright stance, squared shoulders, wraparound greenhouse, high-mounted tail lights and confidence-inspiring SUV ride height. 2014 Soul rides on a new chassis that is stiffer, longer and wider.
In addition, the enhanced torque and significant suspension upgrades make the new Soul an agile companion in city environments. The interior of the model is made via higher quality materials and now has more driver-focused design. It offers a wide range of standard comfort and convenience features, including Bluetooth wireless technology and steering wheel-mounted controls.
Source: Kia