Toyota Dream Build Challenge Let's Go Moto Tundra [VIDEO]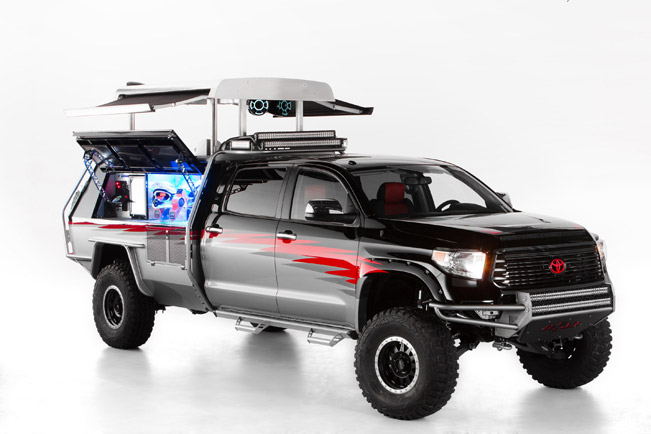 The last vehicle to compete in Toyota Dream Build Challenge is called Let's Go Moto Tundra. It was created as a result of the collaboration between two motocross athletes - Josh Grant and Justin Brayton and Toyota.
The modified Tundra is the ultimate desert sports machine. With some help from JGRMX and N-FAB, this Toyota vehicle now has expandable electronic awnings and TV screens, along with all motocross gear and attitude.
As one can see the size of this Tundra is very unusual. The team kept the front half of the 2014 Tundra with a CrewMax cabin and swapped in an 8-foot long truck bed from another Tundra. In addition, there was added a custom-built metal box that serves in terms of accommodation of the length of a motocross bike, plus three TV screens on doors that swing open.
To be more precise, one of the TVs plays off a game console so the riders have entertainment between competitions, while the second one can play DVDs and a third - bike engine diagnostics. For the functionality of the truck contribute a fridge, power washer, helmet dryer and space for tools, back-up gear and hydrogen tanks.
At last, the entire vehicle was lifted from the ground by nearly 12 inches to handle the rugged desert terrain. The two Team Toyota athletes and their partners had only seven weeks in this year's Toyota Dream Build Challenge to modify a vehicle and make it unique.
The winner will be announced on 5th of November at SEMA Show. To win, Grant and Brayton must score the greatest number of votes among the other competators: the freestyle skier Simon Dumont with partner Oakley with the Ultimate Dream Ski 4Runner; BMX rider Drew Bezanson with partner Skullcandy and the 2014 Corolla tuned for performance and NASCAR driver Parker Kligerman with partner Kyle Busch Motorsports, who transformed a 2013 Camry into a rally car.
Video Source: YouTube
Source: Toyota