Toyota Dream Build Challenge CamRally [VIDEO]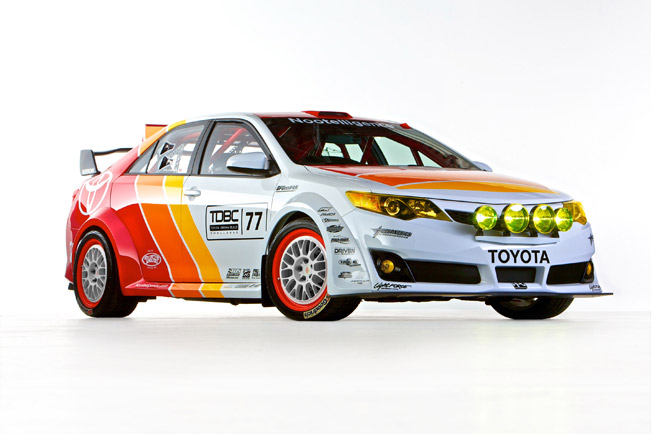 The next vehicle in Toyota's line-up readied for SEMA Show is the CamRally. The car is also part of the Toyota Dream Build Challenge like the Crusher Corolla. Under the lights in this case is the SNASCAR driver Parker Kligerman, who collaborated with Kyle Busch Motorsports in order to modify 2013 Camry SE into the "CamRally". The exterior color of this Toyota vehicle is decided in the combination of red, orange and yellow. The other featured modifications here create a real, road-ready rally car. For instance the racing seats, turbos, racing windows, a roll cage, powerful brakes and heat protection add functionality and safety to the car for rough terrain.
In addition, the fog lights and an aerodynamic package as well as the CamRally logo with Kligerman's racing number 77, additionally improve the qualities of the car.
For the Toyota Dream Build Challenge the brand invited five athletes and big-name partners to put the athlete's passion into a vehicle. The winning vehicle will be the one gathered the most votes from fans, and will be announced on 5th of November at SEMA Show.
The other competitors are freestyle skier Simon Dumont with partner Oakley; BMX rider Drew Bezanson with partner Skullcandy and supercross stars Justin Brayton and Josh Grant with partner Joe Gibbs Racing Motocross.
Video Source: YouTube
Source: Toyota