Manga-inspired Toyota GT86 Initial D Concept pays tribute to the mid-80s AE86 Corolla

Car from Initial D manga comics is the inspiration for the GT86 concept
If you are into manga, then you have probably heard of the Initial D: cult Japanese comics, where the young hero, Takumi Fujiwara, drove a modified AE86. He honed his driving skills on mountain roads as delivery driver for his father's tofu shop. As you can expect, the car immediately became a star, influencing the emerging drifting scene and inspiring a live action movie and various arcade games.
What's even more exciting is that Toyota's new GT86 project is inspired and based on the world-famous mid-80s AE86 Corolla featured in the series. Well, here's a hint, since the GT86 was introduced in 2012, it was instantly recognized as the successor to the rear-wheel drive Corolla GT Coupe.
SEE ALSO: Australian engineers pushed Toyota's Land Cruiser to its limits. Check out what happened! 
Now, Toyota is re-emphasizing this link with one-off project called GT86 Initial D concept. Besides the spirit, the car also mimics the livery of the Corolla featured in the comic book. Highlighting the pop-culture roots, the brand has made the fantastic decision to commission manga artist Sonia Leong to design a series of panoramic backdrops that put the real GT86 into comic strip action scenes.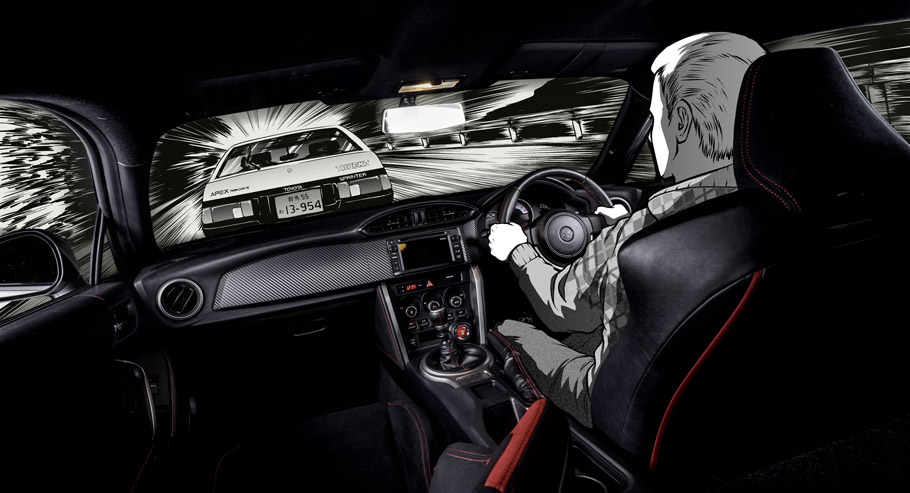 The GT86 Initial D concept's livery copies manga car's panda-style monochrome outfit. In addition, it utilizes new versions of the same Japanese market components that were once on the successful original. Precisely, here are featured custom-made RS Watanabe alloy wheels, TRD suspension, a Fujitsubo exhaust system, Cusco strut brace, and a carbon fibre bonnet.
The yellow-tinted fog lights that were a trend back in the 80s haven't been forgotten. They hint at the Cibié spotlights and the silver-painted engine cover. The latter features underneath high-revving 20-valve 'Silver Top' 4A-GE unit.
Modernized a little bit, the car sports carbon fibre door handle protectors and mirror covers. They give a similar effect to the black plastic material used on the AE86. Just like the Initial D car, this one features mud flaps and tinted rear lenses and no boot lid spoiler. Check out the details below for further inspiration.
All in all, this Toyota GT86 Initial D Concept acknowledges how important the AE86 was. Unfortunately, it won't reach production, but still it will be attending motoring events around Britain throughout the summer. So, if you are lucky (and have the passport) you might end up having a glimpse on it.
Toyota GT86 Initial D Concept Technical Specifications:
| | |
| --- | --- |
| | 8 x 17″ (ET40) RS Watanabe F8 alloys with optional black finish |
| | TRD Sportivo suspension system |
| | Fujitsubo Authorize S system |
| | Cusco Type OS front strut brace |
| | Seibon OEM-style carbon fibre |
| | Panda-style metallic black vinyl graphics |
| | Cusco carbon fibre door handle protectors, OEM carbon fibre mirror covers, OEM mud flaps, tinted rear lenses, tinted front fog lights, TRD oil filler cap, TRD high-pressure radiator cap, TRD push start button |
Source: Toyota