Toyota i-Road Concept With World Premiere In Geneva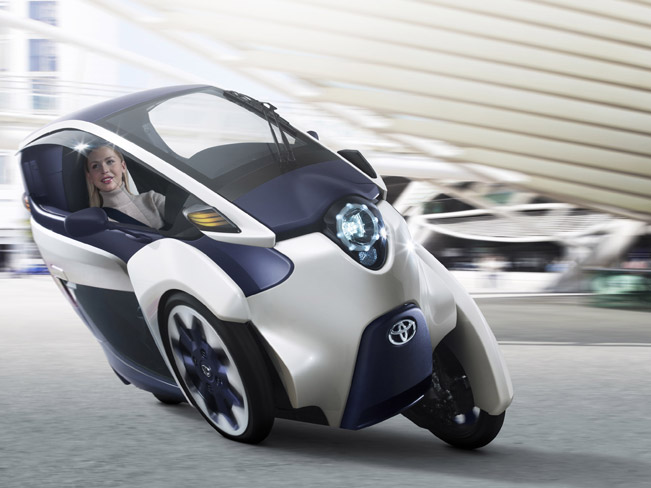 Toyota i-Road Concept is a personal mobility vehicle (PMV) which is making a world debut at the Geneva Motor Show. It aims to bring more flexibility in the urban environment, efficiency and fewer emissions.
i-Road is an electric vehicle with a range of up to 30 miles (50km) on a single charge. It utilizes "Active Lean" technology, and offers intuitive and enjoyable driving with no need for driver or passenger to wear a helmet.
With this PMV, Toyota is paving the way for several types of eco vehicles which are to emerge in the near future, and will adapt brand's Hybrid Synergy Drive technology. The latter is used in plug-in hybrid electric vehicles (PHEVs), electric vehicles (EVs) and fuel cell vehicles (FCVs).
In fact, people who are using PMVs will be delighted with this model because it is more comfortable, offers better weather protection and is safer than a two-wheel vehicle. In addition, the i-Road has low running costs, easy parking and around-town manoeuvrability.
The three-wheel i-Road is 2,350mm long and 1,445mm high and has a 1,700mm wheelbase. What is more surprisingly however is its width which is only 850mm. First of all this signifies that the vehicle isn't wider than a conventional two-wheeler and secondly this makes it easier for manoeuvring through congested traffic. Additionally, it also means four can be parked in a single parking bay.
Furthermore, this Toyota model has zero-emissions, thanks to its all-electric powertrain which utilizes a lithium-ion battery to power two 2kW motors mounted in the front wheels, giving brisk acceleration and near-silent running. The driving range here is around 30 miles, after which the battery can be fully recharged from a conventional domestic power supply in only three hours.
The highlight here is the company's new and entirely intuitive Active Lean technology. It brings to the vehicle high levels of stability, safety, comfort and fun-to-drive character. In particular, the system uses a lean actuator and gearing mounted above the front suspension member, linked via a yoke to the left and right front wheels.
What is more, an ECU calculates the required degree of lean based on steering angle, gyro-sensor and vehicle speed information, with the system automatically moving the wheels up and down in opposite directions, applying lean angle to counteract the centrifugal force of cornering.
The same system also manages when the PMV is being driven in a straight line over stepped surfaces. What happens is that the actuator automatically compensates the changes in the road to keep the body level. Here the minimum turning circle is measured at three meters.
In addition, the i-Road can be equipped with a safer, weatherproof, closed body and so can be driven without wearing a helmet. Of course, this means that the driving experience is more car-like and this is reinforced by features such as lighting, heating, audio and Bluetooth.
Toyota i-ROAD Concept has the goal and the beautiful vision for the future to play a significant role in reducing city traffic congestion and air pollution. Additionally, its compact size, manoeuvrability, easy parking, rapid charging and choice of an open or closed cabin make it the perfect urban vehicle, without compromising individual freedom of mobility.
Source: Toyota