Toyota To Make Five Global Debuts At Tokyo Motor Show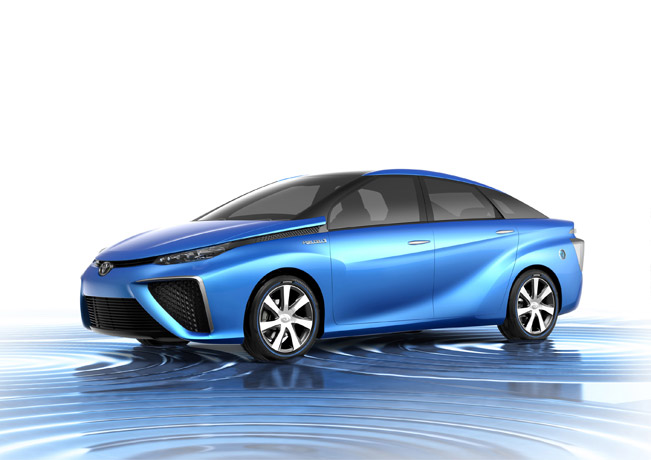 Toyota is going to make five world-premieres of concept vehicles at this year's Tokyo Motor Show, which will start on 20th of November in the Japanese city. All of the concepts were created under the slogan "Fun to Drive, Again" which conveys brand's vision of a future mobility society that values the joy of driving.
The concepts on display at the event are: Toyota FCV (Fuel Cell Vehicle) Concept, Toyota FV2 (Fun Vehicle 2), Toyota JPN Taxi Concept, Toyota Voxy Concept and Noah Concept, Toyota Aqua G Sports Compact Sports Hybrid, Toyota i-Road and at last but not least – Toyota FT-86 Open Concept. The first global debut is for Toyota FCV which is a practical concept of the fuel cell vehicle Toyota plans to launch around 2015. It is powered by hydrogen and has a driving range of at least 500 km and refueling times as low as three minutes.
The vehicle's exterior design is inspired by the transformation of air into water as the system produces electricity, as well as the powerful acceleration enabled by the electric drive motor. The bold front view includes pronounced air intakes.
The car also has sleek sides that convey the air-to-water transformation with its flowing-liquid door profile and wave-motif fuel cap. The same theme is used for the creation of the rear, which conveys a catamaran's stern and the flow of water behind.
The vehicle can perfectly accommodate four persons thanks to the special design body beneath which are positioned the light-weight FC Stack and two 70 MPa high-pressure hydrogen tanks. The Toyota FC Stack has a power output density of 3 kW/L as well as an output of at least 136 hp (100 kW). The FC system is equipped with Toyota's high-efficiency boost converter. Toyota FCV Concept Dimensions:
| | | | | |
| --- | --- | --- | --- | --- |
| Length(mm) | Width (mm) | Height (mm) | Wheelbase (mm) | Occupancy |
| 4,870 | 1,810 | 1,535 | 2,780 | 4 |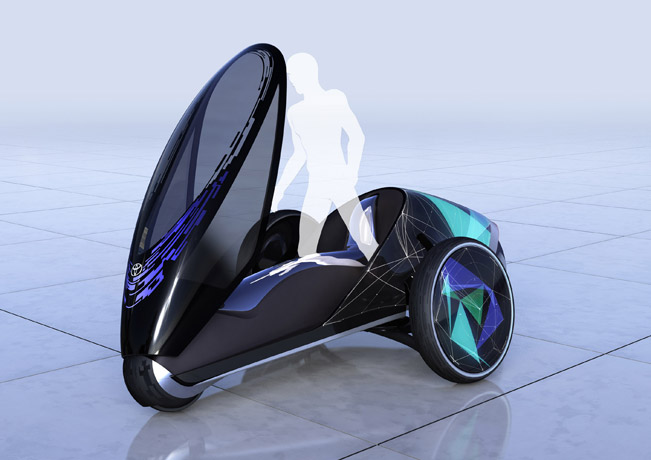 The next world premiere is for
Toyota FV2
which is a very special concept car that shows the brand's vision for the future. It is interesting that this concept does not use a steering wheel, but operates by the driver shifting their body to intuitively move the vehicle forward and back, left and right.
Furthermore, by the utilization of intelligent transport system technology to connect with other vehicles in the area and traffic infrastructure, Toyota FV2 provides the perfect safety driving. In such cases it signals with various advanced warnings about vehicles in blind spots at intersections.
What is even more spectacular here is that Toyota envisions an ever-developing driver-vehicle relationship. This will happen via the incorporation of "Toyota Heart Project". To be more precise, the vehicle uses voice and image recognition to determine the driver's mood, accumulated driving history to suggest destinations, and driving skill information. In addition to an augmented reality (AR) display on the windshield, the body color and exterior display can be changed at will.
Toyota FV2 Dimensions:
Length(mm)
Width(mm)
Height(mm)
Wheelbase(mm)
Occupancy
3,000
1,600
990 (sleep mode)
2,360
1
1,780 (driving mode)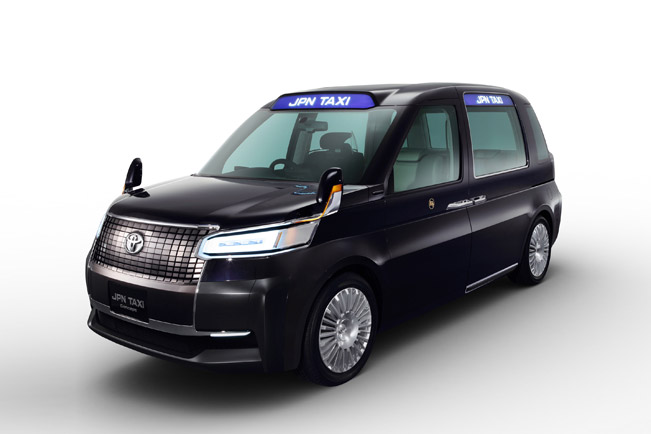 The third concept vehicle is Toyota's vision for a new Taxi: the JPN Taxi Concept. You can follow the highlighted link and read about it in details. Toyota JPN Taxi Concept Dimensions:
| | | | | |
| --- | --- | --- | --- | --- |
| Length(mm) | Width(mm) | Height(mm) | Wheelbase(mm) | Occupancy |
| 4,350 | 1,695 | 1,700 | 2,750 | 5 |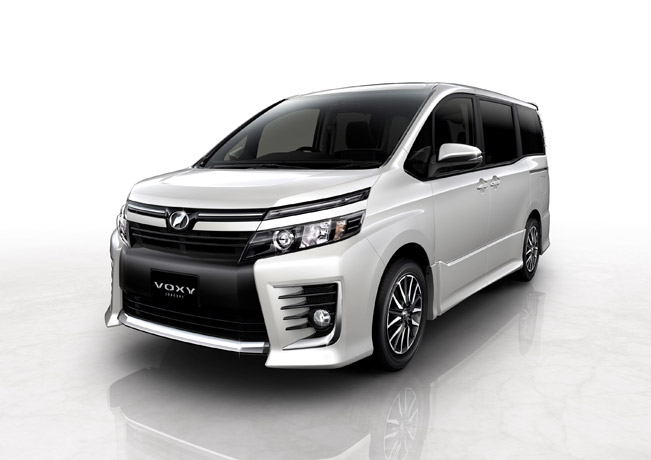 The next premieres are for the Toyota Voxy Concept and Noah Concept which are the next-generation spacious minivans that offer a roomy interior needed demanded by families. To the vehicles has been added low-floor package which creates a class-leading roomy interior with outstanding ease of ingress and egress.
Furthermore, these Toyota concepts are seven-seaters that include ultra-long sliding Captain Seats in the second row, providing a diverse range of seating arrangements. They are equipped with a 2.0-liter gasoline engine variant and a 1.8-liter hybrid variant with a full hybrid system. The front end of the Noah Concept is sophisticated while the Voxy Concept employs exclusive aerodynamic parts to emphasize the low center of gravity, impressive wide-body, and the overwhelming sense of presence. Market versions of the vehicles are planned for launch in the Japanese market in early 2014. Toyota Voxy Concept and Noah Concept Dimensions:
| | | | | | |
| --- | --- | --- | --- | --- | --- |
| Vehicle | Length (mm) | Width(mm) | Height (mm) | Wheelbase (mm) | Occupancy |
| Voxy Concept (as pictured) | 4,710 | 1,730 | 1,825 | 2,850 | 7 |
| Noah Concept (as pictured) | 4,695 | 1,695 | 1,825 | 2,850 | 7 |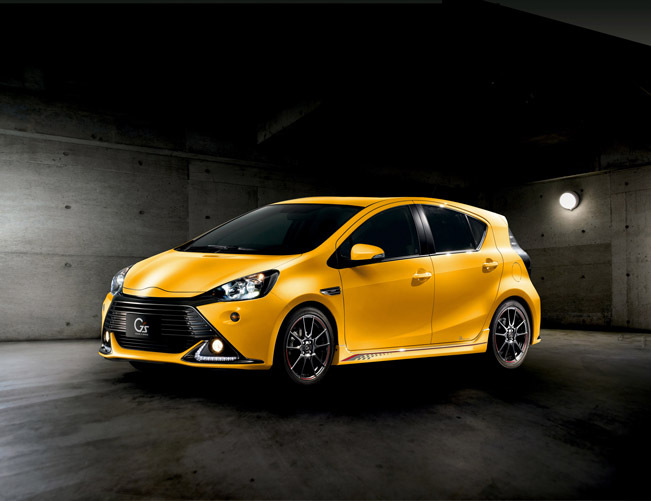 The fifth model in the line of concept vehicles is Aqua G Sports which has a powerful, sleek and inspiring design and excellent fuel efficiency. Moreover, the car has been fully tuned by GAZOO Racing and its market version will be launched in the Japanese market in late November.
Toyota Aqua G Sports Dimensions:
| | | | | |
| --- | --- | --- | --- | --- |
| Length(mm) | Width(mm) | Height(mm) | Wheelbase (mm) | Occupancy |
| 4,055 | 1,695 | 1,420 | 2,550 | 5 |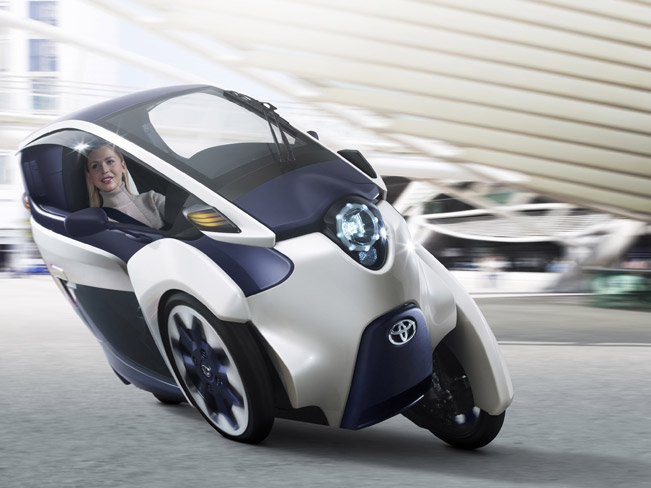 Toyota i-Road Concept is not an unfamiliar vehicle, because it made its debut at the Geneva Motor Show. Now, this ultra-compact mobility car is ready to conquer Japan.
Toyota i-Road Dimensions:
| | | | | |
| --- | --- | --- | --- | --- |
| Length(mm) | Width(mm) | Height(mm) | Wheelbase(mm) | Occupancy |
| 2,350 | 850 | 1,445 | 1,700 | 2 |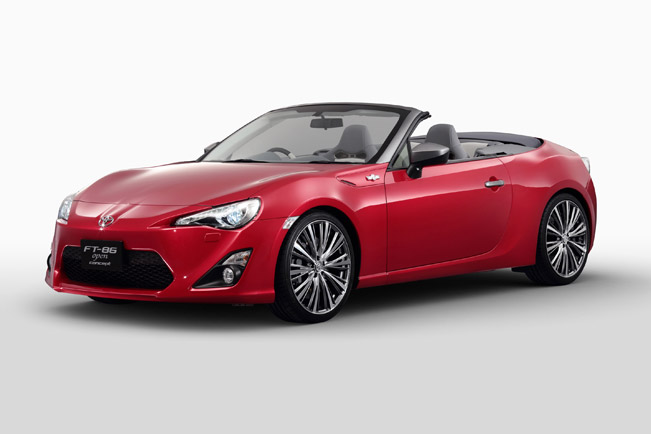 At last, Toyota FT-86 Open Concept is based on the rear-wheel-drive 86 sports car. It includes an electrically operated soft top, as well as a new "Flash Red" body color, which was used specifically for the Tokyo Motor Show.
FT-86 Open Concept Dimensions:
| | | | | |
| --- | --- | --- | --- | --- |
| Length(mm) | Width(mm) | Height(mm) | Wheelbase(mm) | Occupancy |
| 4,240 | 1,775 | 1,270 | 2,570 | 4 |
Source: Toyota