Toyota Yaris Hybrid-R Concept Finally Revealed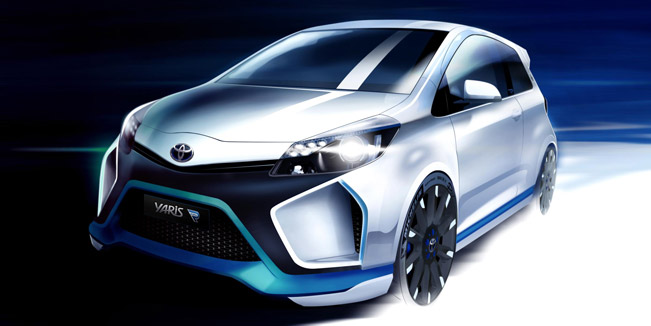 The first image of the new Toyota Yaris Hybrid-R Concept has been revealed. The vehicle will make its debut at this year's Frankfurt Motor Show, where the Japanese brand will display the possible future hybrid development ideas it has in mind. They aim to deliver greater performance and driver rewards.
With this model, Toyota has the goal of bringing together its past achievements and future plans for hybrid technology. The concept is based on the three-door Yaris and is equipped with 1.6-litre GRE (Global Race Engine), combined with two electric motors, which in addition give the car intelligent all-wheel drive capability.
Furthermore, as earlier announced, the Hybrid-R will utilize the technology featured in Toyota's TS030 Hybrid race car. Thanks to it, the energy which is recovered under braking is stored in a super capacitor. The effect is optimum driving pleasure.
The brand will also showcase at the event its Fuel Cell Hybrid Vehicle (FCHV) technology ahead of its launch in 2015. The goal is to achieve maximum energy and minimum emissions due to the use of hydrogen as an ultra-clean energy source.
In addition, at the show, Toyota will celebrate 16 years of hybrid technology. Back in 1997 the brand introduced to the automotive market the first Prius. Since then, there has been more than 5.5 million hybrids sold. What is more, by the end of 2015 Toyota will also introduce 16 new or revised hybrid models.
Source: Toyota