VÄTH V63 Supercharged Mercedes-Benz C63 AMG Black Series
Long time, no see from Väth. Still, here's a Mercedes-Benz C63 AMG Black Series. The German tuners however, would prefer to call it the V63 Supercharged – more power, more pipes, more stopping forces at work and less ride height. Throw in some wheels and you've got yourself a true Väth product.
A "normal" engine in a C63 AMG Black is pretty satisfying, isn't it? Well, according to our friends here, there's always room for more. And technically, they are right. Sure, it develops 510 hp but it is, and has always been, naturally aspirated. Väth quickly tended to that issue, hence the name (Supercharged?). They also fiddled with the engine electronics, slotted in big intercoolers and concluded that the V63 now shreds it's tires with 756 hp and 800 Nm of torque. To cite some performance figures here – 0 to 100 km/h – 3.6 seconds, Top speed: 350 km/h (with the right tires).
In addition, a stainless steel exhaust-manifold system has been provided as well as a catalyst device further down the line, and a silencer with a remote-controlled valve at the back. No new tailpipes though. The new shock absorbers allow the Black to be lowered or elevated within a 20-65 mm range. 405 mm discs on the front axle ensure that you have the stopping power to match the dynamic performance. Over them, three-piece forged wheels have a functional and aesthetic purpose – 9 x 12-inches with 255/30/20 of rubber at the front and 11 x 12-inches at the back wrapped in sizes 295/25/20 tires.
Inside, you don't get much except a costly new steering wheel with leather/leather or carbon/leather or even wood patterns. Also there's an extension of the speedometer which will now count to 400 km/h.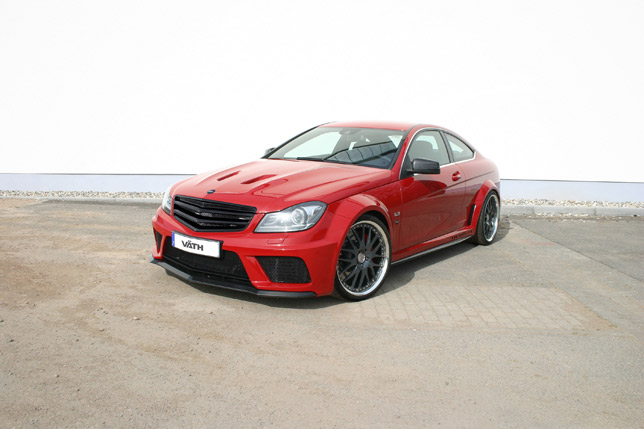 Source: VÄTH