Vauxhall VXR8 Maloo LSA vs 1903 Vauxhall 5HP and what they (surprisingly) have in common

Vauxhall VXR8 Maloo LSA is Britain's most powerful light commercial vehicle (LCV) and it will be also one of the main attractions at the Goodwood's Festival of Speed next week. What is more, the VXR8 will be accommodating Vauxhall's very first car in its generous load-bay!
In addition, the new model is 107 times more powerful that the ancestor, called for a reason "5HP". Built in 1903, it weighs just 272kgs (and the Maloo's load bay is 500 kg) and can hit a maximum speed of… 25mph! If we have to compare it with the Maloo: it is barely a sixth of what it can achieve. By the way that was quite quick by early twentieth century standards.
SEE ALSO: Iconic 1957 BMW 507 makes exclusive comeback at Goodwood
Did you know that the Vauxhall VXR8 Maloo LSA is driven by the 6.2-litre, supercharged V8 which is also to be found in its Chevrolet Camaro ZL1 sibling? The car deploys its power through a limited slip differential to the rear wheels, producing a total of 536 hp and capable of achieving 155 mph. The 0-60 acceleration time is reached in 4.3 seconds. Maloo also benefits from a neat Launch Control system for maximum-attack starts.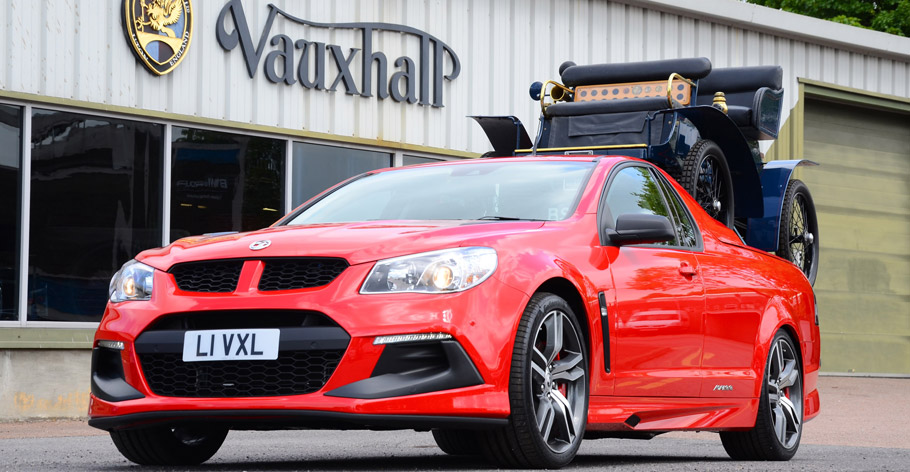 If we dare to compare both car's times on the Goodwood's famous hill climb (and although there isn't an official timing in the First Glance class in which the Maloo can be seen this year), estimates say that it would reach the finish line of the 1.16-mile course in 55 seconds, while the 113-year-old 5HP can do this for at least three minutes.
And despite that it seems that both vehicles have nothing in common besides the brand, there's actually one feature which is shared by both vehicles. And very surprisingly – it is the monocoque! Since 1903 Vauxhall's engineers joined the chassis and the lower part of the 5HP's body into a composite steel and wood structure, effectively creating a very early form of a monocoque design. Now, this feature is employed by almost all production cars around the world.
This year Goodwood proves to be very exciting!
1903 VAUXHALL 5HP vs 2016 VAUXHALL VXR8 MALOO LSA
| | | |
| --- | --- | --- |
| | 5HP | Maloo |
| | 978cc | 6,162cc |
| | 1 | 8 |
| | 5bhp | 536bhp (544PS) |
| | N/A | 671Nm @3850rpm |
| | Integrally cast head/block | All-aluminium heads/block |
| | Vauxhall spray carb | Electronic fuel injection |
| | 2-bearing | Cross-bolted, 5-bearing |
| | Clutchless, 2-speed | 6-speed manual |
| | Via chain to rear axle | Via limited slip diff. to rear axle |
| | Spiral springs/no dampers | MacPherson Strut |
| | Spiral springs/no dampers | Fully independent, multi-link |
| | By tiller / plenty of faith | By wheel / rack & pinion |
| | None | 367mm diameter ventilated discs |
| | Drums | 372mm diameter ventilated discs |
| | 26-inch / wire construction | 20-inch / alloy |
| | 26/3 | 255/35 x 20 |
| | 26/3 | 275/35 x 20 |
| | 25mph | 155mph (limited/est) |
| | Uh, never… | 4.3 seconds (est) |
| | 38mpg (unofficial) | 18.5mpg (official combined) |
| | 130 guineas (£136) | £54,520 |
Source: Vauxhall