Volkswagen Beetle Dune Concept Closer To Reality At Detroit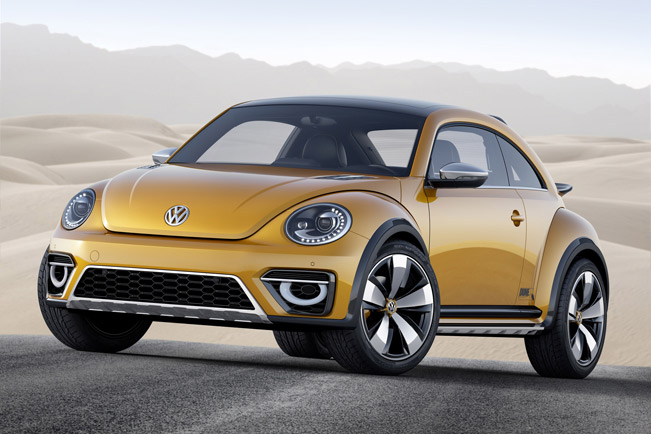 A sketch just a week ago, reality toady: the Volkswagen Beetle Dune Concept reveals itself to the world in Detroit at the 2014 North American Auto Show. It's also closer to production than ever. So get your sunscreen and prepare for the amazing sandboarding session you've always dreamed of.
Why do we think the Dune is close to production? Well, it's pretty much a Beetle. A beefed up one but, nevertheless, a Beetle. It sits 50 mm higher from the ground than the standard counterparts, It has four aggressively flaring wheel arches that widen the body by 24 mm on each side (that's a total width of 1,856 mm. Consequently, both of the Dune's tracks get a 29 mm advantage over the standard ones. A track width, then, of 1,607 mm at the front and 1,573 mm at the rear. It sits on four 19-inch wheels wearing 255/45 tires. Main point: even more ruggedness!
There are some visual gimmicks that no concept goes without, but they are very minimal. Things like the front bumper honeycomb air intakes, LED turn indicators. Then there's the back which hosts two spoilers that have been specially designed to accommodate a pair of skis... for sand, apparently.
A very real part of the car, however, is its turbocharged 210 hp engine, which we suspect may have been lifted from a Golf GTI and mated to a six-speed DSG gearbox. Here are some actual figures: 0 to 62 mph gets done in 7.5 seconds; a top speed of 141 mph is "feasible"; and a fuel economy of 23 mpg (city) or 29 mpg (highway). An interesting engineering choice, though, is the FWD setup. It's called the Dune, people, how do you tackle the sandy stretches?
Also, inside things have been left production-friendly. The only Dune-specific interior bit is the additional passenger grab handle in place of the glove-box. You'll have a hard time noticing it anyway, since there's a 7.7-inch touchscreen display dominating the center console.
Source: Volkswagen