Volkswagen Beetle Dune Off-Roader Makes Debut In Detroit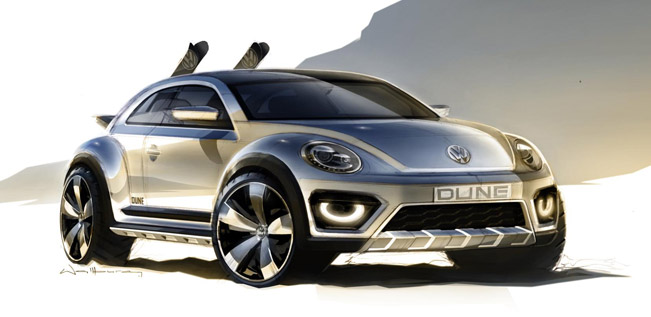 Another concept is announced to make its official premiere at the North American International Auto Show in Detroit and it is the Volkswagen Beetle Dune. The brand has released a sketch to reveal the car ahead of debut and through it we can get the impression of Beetle's cool and rugged offroad look.
As a matter of fact Volkswagen is taking into consideration the chance to bring in production the Dune concept, making it the sportiest Beetle ever. The details revealed are not many but say much: the body was raised by two inches and the designers bolted a pair of skis to the roof.
Another interesting fact is that the Dune Concept actually revisits an idea that was born with the New Beetle Dune concept, presented in Los Angeles in 2000. However, the latter car was unsuccessful because of its unrealistic design, interior and roof structure.
Dune is based on the production R-Line Beetle and will be equipped with 210-horsepower turbocharged TSI engine matched with a six-speed DSG dual-clutch automatic transmission. The concept puts its power to the ground via the front wheels and a strut-type front and multilink rear suspension, with the XDS electronic differential lock delivering additional traction.
Source: Volkswagen