Volkswagen Cross Coupe Concept
Volkswagen will announce the Cross Coupe Concept at the 42nd Tokyo Motor Show. The all-wheel drive plug-in hybrid vehicle is a mixture between a four-door coupe and a SUV. It also defines a new stage in VW engineering design, being the first model based on the company's new modular transverse matrix – or MQB – to be shown publicly.
The dimensions are 4 345 mm in length, 1 868 mm width, 1 523 mm height and 2 630 mm wheelbase. The overhangs - 855 mm at the front and 860 mm at the back are correspondingly short.  This gives the car a very compact but dynamic appearance, which is emphasised by wide tracks widths.
The four-seat Cross Coupe is powered by two electric motors - one front and one rear. The smaller, which is on the front wheels generates 54PS (40 kW) and 180 Nm (133 lb-ft) of torque and the bigger, which is placed at the rear axle develops 116PS (85 kW) and 270 Nm (199 lb-ft). The Cross Coupe also has a TSI direct injection turbo petrol engine. The overall power is 265 PS (195 kW). From 0 to 100 km/h in 7 seconds and a top speed of 201 km/h. It can travel up to 40 km on pure electric power.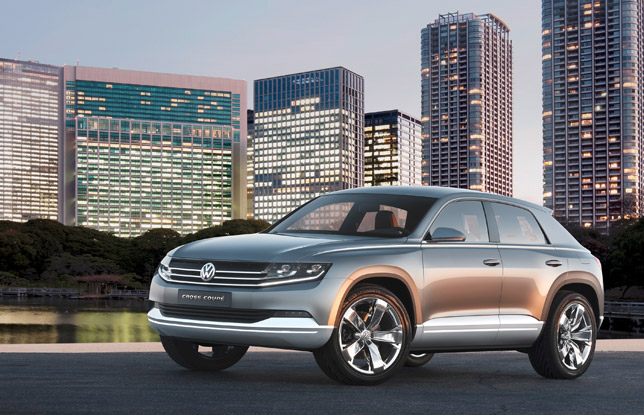 The AWD system with electric drive shaft also represents an innovation for Volkswagen, with the rear axle being driven by the rear electric motor.  In this situation power is supplied to the rear electric motor by the one at the front, which during this phase acts as a generator powered by the TSI engine.  This means that in the Cross Coupe, the flow of electrical energy thus replaces the conventional transfer of power by means of a drive shaft – which creates room in the central tunnel (which would usually house the drive shaft) to hold the lithium ion battery.  The resulting low position of the battery and layout of the drive systems give the vehicle a very low centre of gravity and a balanced spread of axle loading, endowing the car with dynamic coupe-like handling qualities.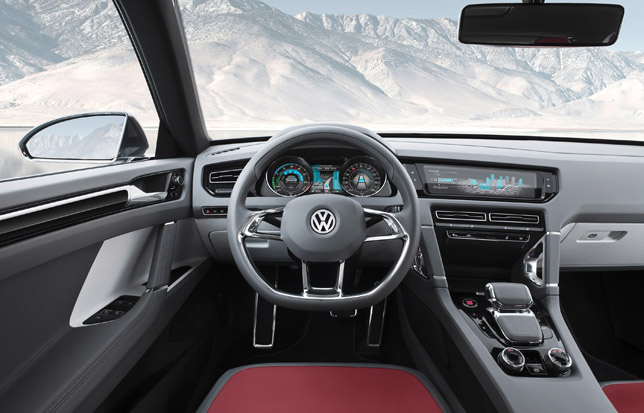 Source: Volkswagen