Volkswagen Golf GTE Plug-In Hybrid Revealed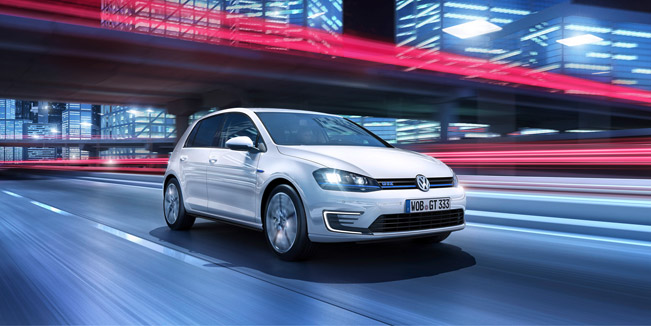 Volkswagen has released the first images of the brand new four-door Golf GTE Plug-In Hybrid vehicle, which was created with the aim to combine the benefits of electric mobility with the dynamics of a Golf GTI.
The new car will make its debut in Geneva, where also will be disclosed its detailed specifications. If you haven't figured out what the letters GTE stand for, where here's the hint: the GT is for "Gran Tourismo", while the E stands for Electric.
Precisely, the car will utilize two engines - a 1.4-litre TSI direct-injection petrol engine that produces 150 hp (110 kW) and a 102 hp (75 kW) electric motor. Together both generate 204 hp (150 kW), 350 Nm (258 lbs ft) of torque and a theoretical range of around 580 miles. Volkswagen Golf GTE uses a six-speed DSG gearbox with a triple-clutch system.
Furthermore, thanks to the mentioned horsepower, the car achieves a 7.6 seconds time for the acceleration from 0 to 100 km/h. The fuel efficiency on a combined cycle is estimated at 188 mpg, while the CO2 emissions - at 35 g/km.
In terms of exterior, there is nothing that would surprise us here – in other words, the GTE is a typical Golf. However, it includes C-shaped LED daytime running lights on the front bumper similarly to the e-Golf and aerodynamic horizontal 'fins' like the GTI. The hybrid will be fitted with 18-inch 'Serron' alloy wheels as a standard.
The same blue highlights seen on the exterior can be found on the inside. For instance, there is a blue stitching of the steering wheel, gear lever gaiter and seats, and a blue stripe in the tartan pattern on the sports seats. The interior also sports 8-inch Discover Pro satellite navigation system with DAB radio and Bluetooth as a standard.
Source: Volkswagen