Volkswagen Golf R is the safest car on wet roads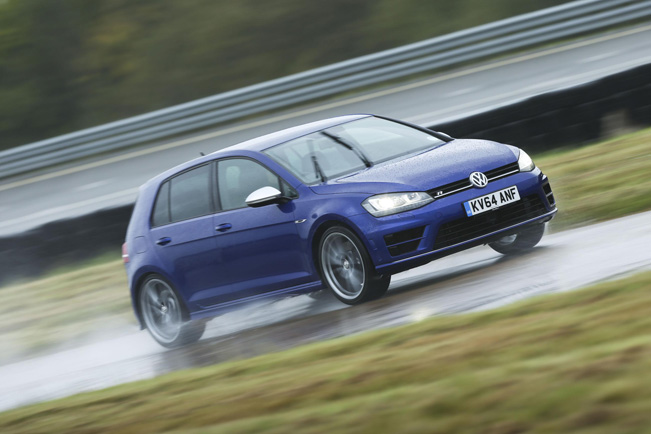 Drivers in the Northern Hemisphere of the world now face winter, which always brings months of road challenges that include fog, ice, snow and rain. Most people will keep on driving even in these conditions so having a safe car for challenging roads is essential if you want to get from point A to point B with no problems at all. This is especially true if you own a performance car too.
Choosing one such car is now a bit easier thanks to the efforts of the British automobile magazine Autocar. According to it, the safest wet road performance car is the Volkswagen Golf R. The result was achieved after extensive testing that included various other models such as the MINI Cooper, Audi RS4, Porsche 911 Carrera 4S, Range Rover Sport, Toyota GT86 and Nissan GT-R. The safety test included five separate challenges at a manufacturer test facility at MIRA Proving Ground. We should also say that the cars tested used tires chosen by the vehicle manufacturer.
All cars underwent tests that included control over stopping from highway speeds of 70 mph (113 km/h), stability when accelerating, braking on ice-like conditions at lower speeds, level of lateral grip when cornering and precision around a circuit.
VW's four-wheel-drive Golf R, which costs GBP 31,970 and produces 296 bhp (300 HP/220 kW), performed the best across all five tests, with the rear-wheel-drive GBP 24,995, 197 bhp (200 HP/147 kW) Toyota GT86 the worst. Running the VW Golf R close was the GBP 88,400 Porsche 911 Carrera 4S with exception for the Lateral Grip tests where it's rear-biased weight distribution unsettled its handling.
"Driving conditions can become hugely challenging very quickly for drivers of sportier and higher performance vehicles. It is very easy to get caught out," explains Chas Hallett, editor-in-chief of Autocar. "Advanced electronics certainly aid the driver, and winter tyres will improve grip, but drivers still need to drive within their limits and abilities, not the cars."
Source: Autocar