Volkswagen Jetta Sport 2.0TDI DSG
Volkswagen Jetta Sport 2.0TDI DSG took the top honour in its Class and we on to be voted overall winner of the 29th Caravan Club Towcar of the Year Competition.
"It was a real eye-opener being at Millbrook seeing all the cars being put through their paces, they really are put to the towing test.", commented former Formula 1 driver Johnny Herbert.
"The Club extends its congratulations to all the winners in this Competition.  Special plaudits go to the terrific Volkswagen Jetta, it really is a great vehicle and it proved itself time and time again with the judges during testing.", said Grenville Chamberlain, Caravan Club Chairman.
The VW Jetta Sport diesel is powered by a 2.0 liter TDI with 140PS (103 kW) and 320Nm (236 lb-ft) of torque. It is mated to a double-clutch DSG gearbox and has a staggering range of 1280km (795 miles), which means 5.47 liters per 100 km (43 mpg).
Class wins in the Competition also went to the Skoda Superb Estate Elegance 2.0 DSG; the Volkswagen Touareg Escape 3.0 V6 TDI and the Volvo V60 D5 AWD Volvo Ocean Race.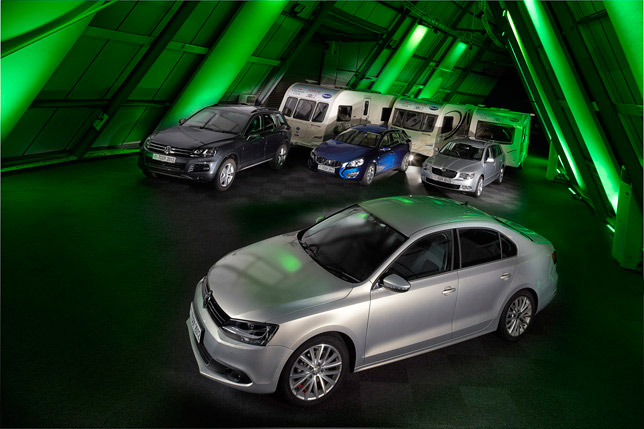 Source: Volkswagen