Volkswagen Passat BlueMotion Concept To Be Shown At NAIAS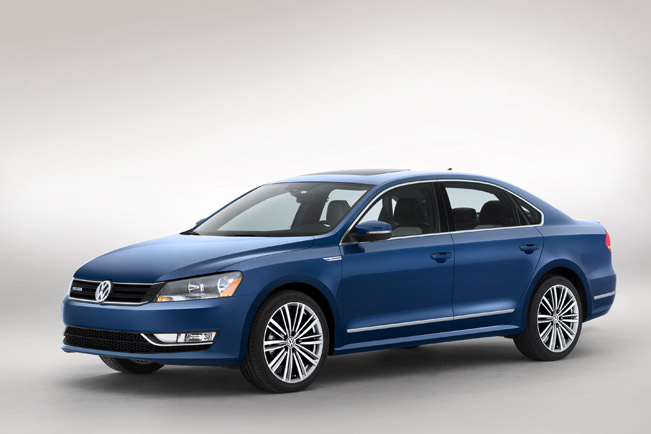 Volkswagen Passat BlueMotion Concept is one of brand's vehicles which are going to be presented at the 2014 North American International Auto Show in Detroit. In fact, with this car Volkswagen aims to show just how fuel-efficient a non-hybrid, gasoline-engined mid-size sedan can be.
The vehicle is based on the current Passat which was developed specifically for North America. The BlueMotion label signifies that this version has the best efficiency in the model lineup. The efficient fuel consumption can be attributed to Volkswagen's 1.4-liter EA211 TSI engine with direct injection and turbocharging. The unit delivers 150 horsepower (110 kW) and 250 Nm (184 lb-ft) of torque.
What is more, this Passat also offers Active Cylinder Management (ACT) technology, which deactivates the valvetrain on cylinders two and three. This happens in situations when the driver only applies light throttle pressure to maintain specific city speeds.
Another fuel-saving option included in this car is the DSG transmission. As soon as the driver releases the accelerator pedal, it decouples the engine. This allows the Passat to roll with the lowest possible mechanical drag from the other moving components.
Other technology which contributes for the maximum efficiency here is the stop/start system, which shuts off the engine when the car comes to a temporary stop. All in all, these technologies deliver manufacturer estimated highway fuel economy rating of 42 mpg.
At last, it is worth mentioning the striking new color, which Volkswagen has specifically developed for this model – the Reef Blue Metallic color. The latter will be also available on other Passat models on a later time.
In the interior, there are featured two-tone seats that carry blue dividing lines between the darker and lighter leather seating surfaces. The stitching shows that this car is a member of the BlueMotion family.
Source: Volkswagen